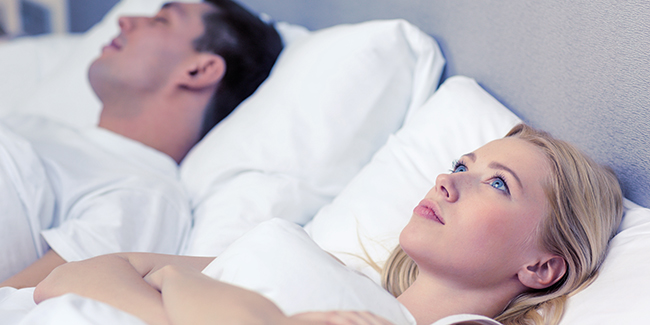 Snoring can be a big stress for your relationship. In a study more than 50% of couples admitted that snoring leads to serious arguments and is affecting their relationship. 80% of them said that sometimes they have to sleep in the other room for a sound sleep. Snoring affects your relationships as it is frustrating situation for both the partners. Since snoring disturbs your sleep it directly leads to situations that can diminish affection amongst the spouse.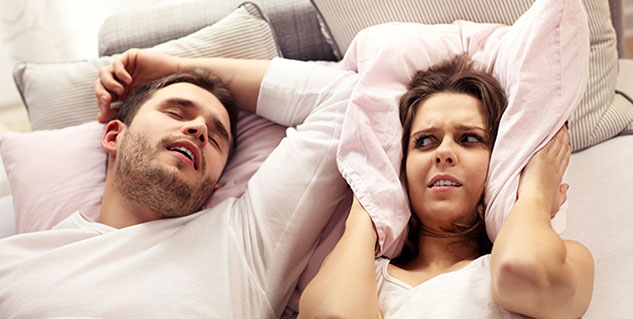 Image source : Shutterstock
[Read: Snoring Cure Discovered]
Snoring and sleep deprivation
According to the Franklin Institute Resources for Science Learning, adequate sleep is as important for brain as food, water and air. Your snoring keeps your partner awake and even if he/she manages to adjust and manage to sleep the quality of sleep is not the same. Continues lack of sleep leads to sleep deprivation. Sleep deprivation leads to inability to focus and uneasiness that can directly affect your relation.
Even though in most of the cases snoring is not the direct reason for dispute between the couples but its impact on partners do contribute in other disputes. Lack of sleep makes the snores and their partners less patience thus leading to problems in relationship. The worst part is that they don't realise that they are not able to resolve issue due to sleep deprivation. For instance, a small problem can turn to disaster after disturbed sleep and can even lead to divorce and breakup.
[Read: Treatment of Sleep Apnea]
Hearing loss
It is seen that with the passage of time the mind and body of non-snoring partner adjusts even to loud snoring of their partners. This is because when someone sleeps next to snoring partner the hearing sensitivity is reduced. For instance, a couple married for long period are not affected by the snoring of their partner. According to an article published in New York Times, spouse of snoring partner develop hearing loss over time.
Fortunately, there are many ways of dealing with the snoring problem. If you and your partner are facing this problem then you must visit a doctor and determine its underlying cause. If you are overweight then losing some weight would help and if you snore loudly then it is time to get tested for sleep apnea. Treatment may vary from simple change in lifestyle to a small surgery but in either case you will be able to save your sleep and beautiful relation.
Image source : Shutterstock
Read more articles on Relationship Help.
For more such stories, Download Onlymyhealth app