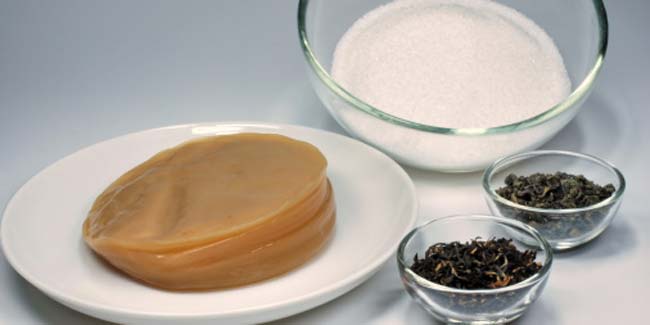 Kombucha helps to control the fluctuating blood sugar levels and maintain cholesterol levels in diabetes.
What is Kombucha?
In a sugared tea, yeast and bacteria are placed and they form kombucha. Proponents believe it to be a good range of vitamins, minerals and acids, helpful in the regulation of blood sugar levels, cholesterol level and control of blood pressure.

It is usually mistaken as mushroom because the mix of bacteria and yeast results in the formation of flat structure that mimics a mushroom cap. For several days, this bacteria-yeast mix is left in a cup of sugar-sweetened tea. After a few days, fermentation process starts and results in kombucha tea, which contains B vitamins and vinegar. During fermentation, the bacteria and yeast absorb the sugar present in the tea and small nub-like growths are formed. This can be used later for preparing kombucha tea. The non-sterile fermentation and unhygienic growing practices are the main reasons behind concerns related to kombucha.
Health Benefits of Kombucha for Diabetics

Kombucha, which is sour in taste, is beneficial for moderating the blood sugar level and keeps it within normal range.
It works to relieve some diabetic complications, such as high blood pressure and improves cholesterol levels.
Kombucha improves metabolism, energy levels and works to make digestion process better. However, there is little scientific evidence to support this.
In an article published in the "Journal of Indian Society of Periodontology", it was stated that Kombucha is helpful in preventing and curing periodontal disease, of which diabetics are at an increased risk compared to non-diabetics.
Scientists have also suggested that changes in the bacteria in the gut can halt the process of absorption of carbohydrates, which is significant for blood sugar control.
Concerns Related to Kombucha
Consumption of kombucha can lead to development of allergic reactions and stomach problems.
Brewing kombucha tea can produce toxic reactions with components in the teapot, which may affect your health.
Using poorly farmed kombucha may result in serious health complications.
In April 1995, the Centers for Disease Control and prevention of the US reported one Iowa woman's death due to unexplained severe illness. Doctors suggested that her illness could be related to her daily consumption of kombucha tea.

Other than diabetes, kombucha tea has been considered as an alternative therapy for a wide range of conditions including baldness, insomnia, intestinal disorders, arthritis, chronic fatigue syndrome, multiple sclerosis, AIDS, and cancer.
Consult your healthcare provider before you begin using kombucha. Your doctor will help you in evaluating the level of risk associated with trying this new herb.
Image courtesy: Getty Images
Read more on Diabetes.