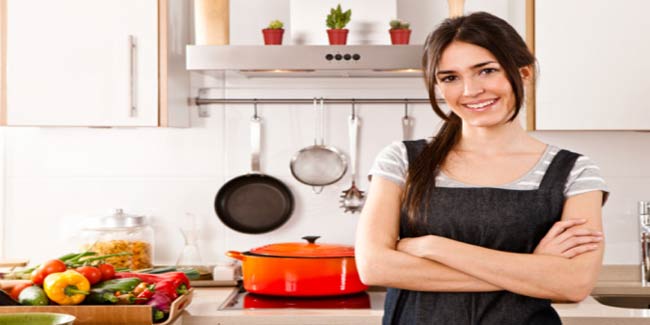 With time, a shift has been observed towards consumers becoming extremely particular about adopting a healthy and hygienic lifestyle in every aspect of their life. There's more noise today than ever about 'fitness', 'health', 'diet' and 'hygiene'. As a lifestyle choice, many people choose to work out in the gym as part of their daily routine with a considerable amount of dedication. But what about the house? Where does healthy and hygienic living begin for you in the house? The answer, of course, is the kitchen.
It all starts from the kitchen
The kitchen is the most important place of a home where all our food is kept and cooked hence making it more prone to bacteria and germs. We are habituated to things like hand washing our utensils or using a scrub pad that we believe can clean dishes, even up to along with killing germs. But little do we realize that washing utensils without sanitizing the scrub pad regularly can be unhygienic. Most people have a habit of leaving the scrub wet for days on end. This dampness makes it susceptible to bacteria growth and you end up using the same scrub to clean utensils. Therefore, by sticking to traditional methods of cleaning, we end up compromising on hygiene that is the essential part of our family's well-being.
Also, Indian households tend to use a lot of oil in their food, which often leaves behind grease and oily residue. Most households fill their kitchen sinks with dirty and oily dishes filled with water overnight. This results in proliferation of hazardous germs and bacteria. A non-disinfected kitchen harbors the same disease-causing bacteria like E. coli and Staphylococcus aureus as a non-disinfected toilet. The findings of a recent report shared by Brihanmumbai Municipal Corporation (BMC) in July 2014 states that nearly 11%* of water samples collected in Mumbai were found to be contaminated.
In a total of 3,116 samples, almost 264 (11.65%) samples were found to be unfit to drink, which included 99 were infected with E.coli bacteria. Last year, the BMC examined 3,357 water samples, and found 482 unfit to drink, with 49 samples having the presence of E. coli. These figures clearly show a 100% in the presence of E.coli in the water since last year. It is a well-known fact that E.coli is an extremely dangerous bacteria which is the cause of several health hazards and illnesses. Small efforts to make sure that the water you use to drink, cook or wash is hygienic should work perfectly in avoiding contact with this bacteria.
To reduce the hassle of cleaning the dishes manually and also to ensure the highest level of hygiene, it is ideal to use a dishwasher that cleans dishes with hot water at 70°C killing 99.9% germs. Indian households tend to use a lot of oil in their food, it often leaves behind grease and oily residue.
It is the time we realize that health-related issues don't always crop up because of the food you consume, but because of a lot of other contributing factors.Listed below are the 7 hygienic tips that contribute to ultimate hygiene, 99.99 % bacteria free dishes, more convenience and higher safety.
Tips to keep your kitchen germ free
1. Make sure kitchen surfaces are all wiped down
2. Use a dishwasher that assures a 70°C-hot water wash to eliminate 99.9 percent of bacteria
3. Keep your sinks nice, dry and clean
4. Always wash food before cooking
5. Keep your cooking area tidy
6. Make sure that you use new utensils for each type of food that you work with
7. Use different chopping boards for raw, cooked and ready-to-eat food

Public concern on the health quotient remains highest when it comes to purchasing food materials. However, it should be of utmost priority to pay an equal amount of attention to maintaining high standards of hygiene in the kitchen.
Image Source: Getty