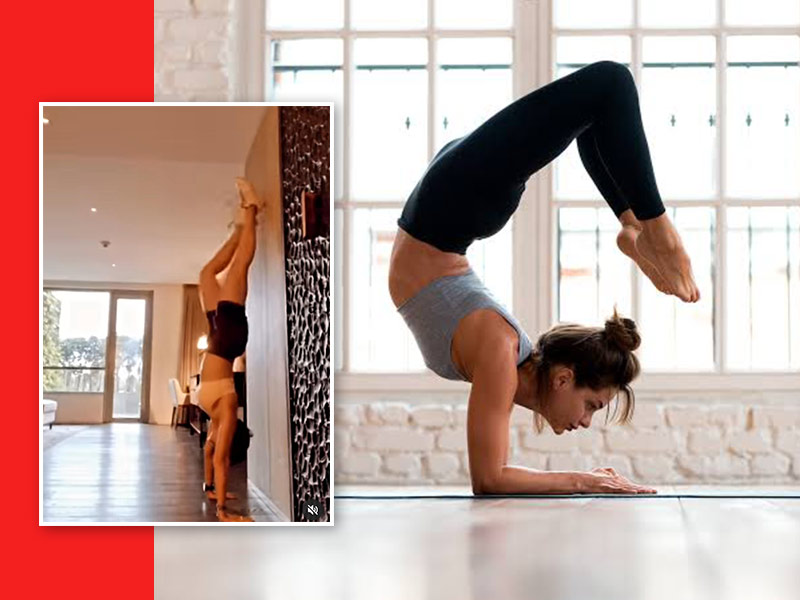 Mandira Bedi gave ultimate weekend motivation vibes to fans with her handstand or Adho Mukha Vrksasana pose recently. She is a fitness enthusiast and keeps netizens engaged with workout pictures and videos. Talking about the handstand pose, it makes you improve the body's flexibility and balance. It makes you put your entire body weight on the head. The Adho Mukha Vrksasana pose is not a easy to do. And, it is not possible to perform it perfectly overnight. But once you start practicing it regularly, this pose can surely improve your overall health in numerous ways. Read further to know about the benefits of handstand and the steps on how to do it.
Mandira Bedi took to her Instagram handle and shared an Instagram reel while doing handstands. She did 33 handstands in total, out of which 11 were in a row, at once. The video clip shows her practicing handstands but they are not the normal ones. She did not stay long in one pose for more than 2-3 seconds. The actress came back on her feet and then repeated it again and again. In the background of the reel, we can hear Brave by Sara Bareilles. She captioned the post as, "Here's wishing a strong, brave morning to all of you. Only onwards, upwards and maybe upside downwards too. Did 33 handstands today. These 11 were in a row.. Feeling..." Check out the post:
View this post on Instagram
Handstand benefits
Handstand or Adho Mukha Vrksasana is known as the king of asanas. Here are the benefits of practicing handstands regularly:
1. Strengthens core
If you want to build and improve your core strength, a handstand can be one of the best exercise forms for you. When you practice the Adho Mukha Vrksasana pose, you completely put the body weight and pressure on your core muscles to hold up your legs, and keep the balance. Thus, try this asana daily make your core strong.
2. Improves upper body strength
While you hold your body upwards during a handstand, your arms and shoulders have to carry all the pressure on your head, which helps in improving the upper body strength. This is also a good posture if you are wanting to build the upper body strength.
Also read: Do It Like Malaika Arora, 7 Yoga Poses To Up Your Fitness Game In 40s
3. Reduces stress and improves mood
Handstand helps in increasing the production of the stress hormone called cortisol. In fact, it also increases blood flow transferring yo the brain. Practicing handstands can improve the production of dopamine and serotonin, which enhances your mood and reduces stress.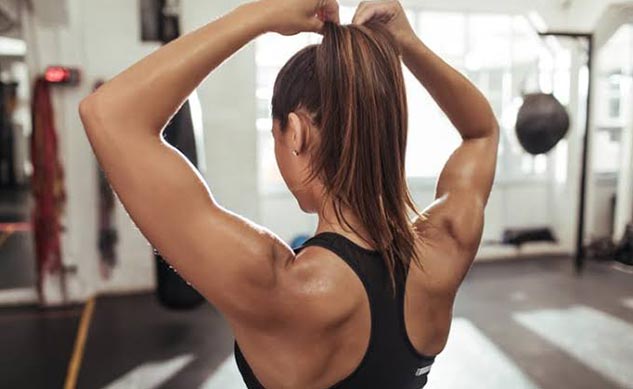 4. Improves digestion
Performing handstand helps in increasing the blood flow to all the digestive parts. It improves the function of nutrient absorption and digestion. It also contributes towards the stimulation of pituitary organ which regulates digestion. Therefore, you can do both handstand and focused breathing for added benefits.
Also read: New To Yoga? Here Are Its 6 Types To Choose From
How to do a handstand?
Handstand is an inverted pose in which the head has to be on the ground and both the feet up towards the sky. Handstand can be a very challenging pose, and it is famous because of the amazing benefits. Here is an easy step by step guide to do a headstand:
Take your beginning position by sitting down on the floor, facing the wall, and press your feet into the wall
Then, turn over and keep your hands where the hips were and your feet in front of the wall. The hands should be placed in a distance of shoulder width apart
Then, start walking your feet slowly walk up the wall behind you, with your legs bent a little. Make sure to put more weight on your hands, while your whole foot into the wall
Start by lifting one leg up, and then gradually lift both legs up
There are many other methods to perform a headstand, but if you master this simplest one, others will feel like a piece of cake