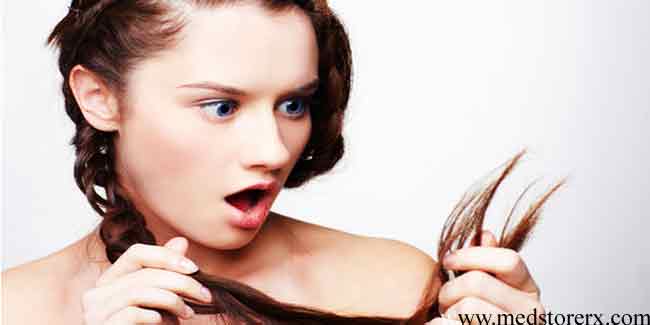 Find out about the causes of hair loss in women and how you can go to treat or reversing hair loss.
For a woman to lose her hair would mean the end of the world. The end of the long locks, beautiful curls, and the silky smooth shadow song deserves better treatment.

Your hair grows from what we call the hair follicle and this happens at an average rate of about ½ inch per month. Each of your hair grows for two to six years and then rests and then eventually falls out. Then again a new hair would soon begin to grow on its place. Baldness in women happens when the hair begins to fall off and the new ones that are supposed to grow in its place do not show up. Here we take a look at all the reasons for baldness in women.
Ageing
When there are changes in the levels of androgens, which are the male hormones. Many women experience thin hair after reaching menopause.
If you have a family history of male or female pattern of baldness.
A common reason could be when there is breakage in hair from treatments and twisting or pulling.
Skin diseases could also lead to the loss of hair.
There is a very little iron, vitamin B or other vitamins in the body.
Sexually transmitted infection like syphilis.

Androgenetic alopecia in women is also known as female pattern baldness and is as common as male pattern baldness. Female pattern baldness is a genetic hair loss condition which is characterized by gradual thinning of hair all over the scalp. Androgentic baldness in women unlike men does not affect the hair line or cause complete baldness but a gradual diffused thinning of hair is seen.

Symptoms
Female pattern baldness is different from the male pattern baldness; in female pattern baldness you have the following symptoms:
The hair begins to thin on the top and the crown of the scalp, and usually starts with the widening through the center hair part.
Then the hairline in the front remains.
It is found that for women the hair loss can rarely progress to total or near baldness as compared to the cases of men.
Understanding Pattern Baldness
Both estrogen (female) and testosterone (male) hormones are found in the body systems of men and women but the levels of both the hormones differ from men to women. The level of estrogen is more than testosterone in women and vice versa in men. Estrogens are essential hormones which are responsible for the sexual development of the female reproductive organs. Women have the advantage of preventing pattern baldness due to the natural and higher presence of female hormone estrogen which balances and prevents effects of testosterone, therefore preventing genetic hair loss till some extent. However, due to hormonal fluctuations which happen due to various reasons, the level of estrogen in a woman can drop giving a chance for testosterone to take over and convert into DHT and cause hair loss.

Other than genetics, hair loss in women can also be caused due to imbalance of thyroid hormones, pregnancy, menopause, diseases and drug treatments. The onset of hair loss in women is mostly seen during the perimenopause or menopause period during which the estrogen levels fluctuate until they reach a stable lower level thereby reducing the protective effects of estrogen against testosterone.
Read more articles on Hair Loss.