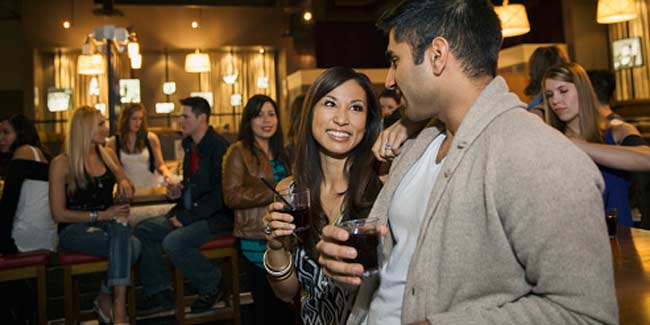 Flirting can be best defined as a way to know a person you are interested in dating. It could be very easy for some, while nerve-wracking for others. It is normal for most people to be nervous around their crush, or the one they really like/adore.
The rules mentioned below will induce confidence in you and hopefully pull off a successful flirtation.

A Reality Check
Eye Contact
Assess yourself to know where you stand on aspects, such as attire, communication skills and sense of humour. If there is a need to work on any of the aspects; if so, then prepare yourself for the challenge to first work on yourself.

Choose your Words
According to the survey by Social Issues Research Centre, maintaining too much eye contact is the most common mistake of flirting. So, how will you go about it? A glance at his/her shouldn't last for long. Moreover, stop your habit of staring at the ones you're interested in.

Keep Things Simple
You need to figure out what remarks will make him/her fall for you. Choose your words carefully, as said remarks can backfire.

Instead of making statements funny or loving or baffling, keep it plain and simple to understand is the mantra. Conversations with simple words and thoughts are easier to carry further.

Keep Him/Her Wondering
A little teasing in the middle of the conversation work wonders. Subtle things that keeps them wondering are enough to keep them interested. In simple terms , leave her/him wanting to find out more.
Drive Him/Her to Comfort Zone
The one you really like may feel uncomfortable near you. Make attempts to get to know them and assure that you know them well.

Be Humorous
A shared sense of humour is appreciated, and is like a bridge of understanding. Men certainly like women more who laugh at their jokes, and vice-versa. It's a mutually benefitting exercise and will ultimately tell you if the date is going well for you or not. This is a click-at-sight feat. You either click or you don't!

Know your Space
Intimate space is a no-go zone when you meet someone for the first time. You can encounter a troublesome situation where you commit a mistake and make excuse for it to convince that it was a mistake. Therefore, be careful for a brazen flirt. Three dates doesn't mean sex. Take time, unless you both are sure that it is going nowhere and that this will essentially end up as a one night stand.

Be Spontaneous
Spontaneous things are impactful. You can also pretend as if things you are doing are spontaneous, without getting caught. But, practice well because you don't want your plans to backfire with all its might.


Be Watchful of the Surroundings
Flirting is acceptable only in certain places, where people around you don't make two of you as their object of entertainment. You may not feel embarrassed to flirt at wrong place, but the one you are flirting with might. PDAs on the first date shouldn't be entertained. Be wary and see if either of you is comfortable holding hands or kissing.

Above mentioned aspects can boost your ability to talk to your dates with ease.
Image source: Getty Images
Read more articles on Dating Tips.