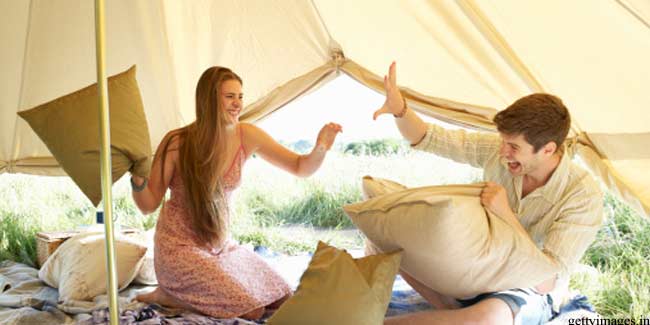 When all else fails in a relationship then there seek help from all things naughty and flirty, it is sure to heat things up and make up for all the boredom that is killing the two of you. Take charge like a man!
To have fun and be flirty with your girlfriend requires no effort, it should come naturally to a man, and it is great at any stage of a relationship. It is however, ideal for those who have hit the end of a road and are stuck with dry spells. The key to a successful relationship is to be lighthearted and have as much fun as you can. This doesn't mean that you can make her feel uncomfortable and sick in her guts, therefore, make sure that she is equally enjoying these flirty games that you are playing with her. Have fun while you can, there is a lot of time left for all the serious talks!
Create an Erotic Story
You can create an erotic story over text. All this requires is your free time, your phone, and your wild imagination. Text a line to your girlfriend such as, "it was a winter evening and she was sitting alone at a bar", and let her pick it up from there and give you the next cue. This way the two of you can create an erotic story and have fun for as long as you like, may be the whole night! You have to make it happen as girls are relatively the shy ones.
Flirty Fill in the Blanks
You could play fill in the blanks with your girlfriend, but this time with a hot twist. Write a line like, "you are so hot when ---------------------", and let her complete it! This can be fun and you can also ask her to ask you the same. The fun happens when you build the game and do not directly plunge into the hot parts. So the first answer to the blank can be "…..when you brush your hair". Then slowly you can get things going.
Truth and Dare
The classic truth and dare can never fail. You can dare her to do some really hot things and truth of course can be about all her fantasies and past boyfriends. But here do not dare her to do something completely eerie so that she finds it disgusting and begs you to stop this game. Best bet is to continue with playing truth and then may be when she is much more comfortable you can move to dare, but then again realise what mood she is in before daring her to do something crazy.


Twenty Questions
The game Twenty Questions can be fun, but you will have to again see that she is comfortable with answering your questions. You can ask each other questions and let the imagination go wild. This game can be played while chatting on the internet or texting with your phones, and the two of you have to be completely free in order to devote time for this. You can also tell her to ask you questions and you can reply with the steamiest of answers.
Unexpected Place and Time
When talking about flirting with your girlfriend, there are ways in which you can make things hot. Flirt with her at the most unexpected of places and at the most unexpected time. You can text her at a party full of elders and family members and ask her to reply, then look at her and give her a naughty smile. Place and time should never matter when you want to flirt with her.

A relationship is a difficult thing to handle, but you can make things easy by working on it in the simplest of ways. Keeping things light and fun can be the best way to deal with the hardships of your relationship.

Read more articles on Intimacy in Relationships.