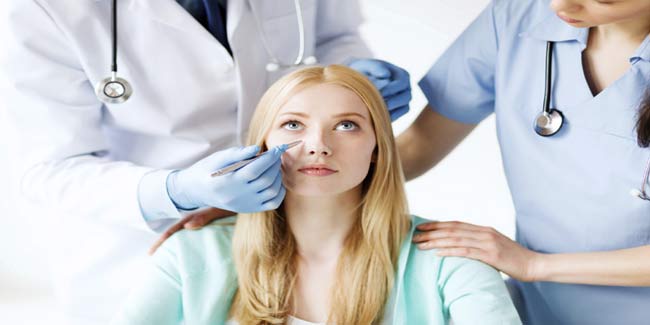 An eternal desire of most people is to remain young forever and have a body and face as attractive and gorgeous as when they were young. But the distressing part is that as we grow older, our body and face develop lines and wrinkles. Do you feel the same?
The major cause of sagging of skin with aging is loss of elasticity and tone of the skin. To fulfill the desire of looking young and attractive many people now go for cosmetic facial surgery. Facelift and neck lift surgeries can help to reduce the lines and wrinkles.

Cosmetic facial surgery is done not only to hide the signs of aging but improve looks as well. Many beautiful actresses both in hollywood and bollywood have undergone cosmetic facial surgery to improve their features. Not only celebrities several people who are not satisfied with their looks have undergone cosmetic facial surgery like cosmetic nasal surgery "rhinoplasty", cosmetic eyelid surgery "blepharoplasty", liposuction for facial contouring, fat grafting for facial contouring to improve their looks.

As cosmetic facial surgery are "cosmetic and elective surgery" most insurance companies do not cover them. The cost of these surgeries is variable and depends on factors such as complexity of the operation, duration of hospital stay, the place of surgery and the type of anesthetic that is administered.

Who should perform the Surgery?
If you are considering cosmetic facial surgery do not opt for a surgeon only on the basis of lesser cost. Consider a surgeon based on his expertise, qualification and recommendations. Before you let a surgeon operate on you try to contact or meet some of his or her patients.
Surgical Facilities
Cosmetic facial surgeries are mostly done in general anesthesia. Some may be performed under local anesthesia. For most surgeries you will have to be admitted in the hospital but some can be done as out-patient procedure. Your doctor will guide you whether you need to be admitted or not.
Risks and Complications
Like any other surgery cosmetic facial surgery, is associated with risks and complications. Most surgeries are without any complications but there is always a risk that you may develop adverse reaction to the anesthetic or some postoperative complications.
These complications can occur even when the surgeon is very experienced and you are operated in a hospital with world class facilities. Before operating your doctor will inform you about the possible complications and take an informed consent for surgery.
Recovering from Your Surgery
Like any other surgery or procedure you will have to restrict your normal activities for sometime after most cosmetic facial plastic surgical procedures. Your work schedule, travel and other activities will have to be curtailed for some time after the surgery to allow sufficient time for healing.

Read more on Body Surgeries