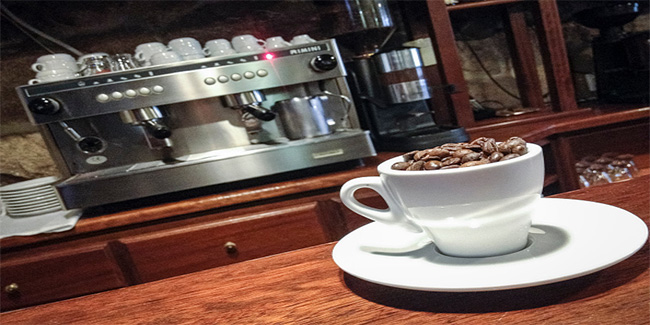 Instant coffee production typically involves treating ground-roast coffee with hot water and use of high pressure to extract the water-soluble compounds. This soluble material is then cooled and sometimes centrifuge

Coffee is the most commonly consumed and the most popular beverage in the world. Consumption of coffee has been shown to benefit health in general, and liver health in particular. Recently, a lot of interest has been generated in the overall beneficial effects of coffee consumption in reducing total and cause specific mortality.
Coffee is a very rich source of antioxidants and the protective effects of coffee have been proposed in a variety of conditions ranging from heart disease to stroke to type 2 diabetes as well as Parkinson disease.
There is increasing evidence in favor of protective effects of coffee consumption in development and progression of liver disease. Coffee intake more than 2 cups per day in patients with preexisting liver disease is associated with lower incidence of fibrosis and cirrhosis, lower HCC rates as well as decreased mortality.








Pharmacology of Coffee
Coffee fruits (cherries) are harvested and undergo pulp extraction to obtain green coffee seeds, which can then be either roasted or processed for decaffeination. It is only through roasting that the seeds gain the characteristic aroma and flavor of coffee. Another factor that can affect the chemical composition of coffee is the method of brewing, which can be percolation, boiling, French press or electric coffee maker, espresso machine or Italian coffee maker.
Instant coffee production typically involves treating ground-roast coffee with hot water and use of high pressure to extract the water-soluble compounds. This soluble material is then cooled and sometimes centrifuged, again concentrated by heating, and dried through freeze-drying to reduce moisture to approximately 5%. The basic chemical composition of green coffee depends primarily on genetic aspects (species of plant), and on physiologic aspects such as degree of maturation.


Mechanism of action
Coffee contains more than 1000 substances, including caffeine, diterphenoic alcohols, potassium, niacin, magnesium, and the anti-oxidants chlorogenic acid (CGA) and tocopherols. It should be noted that caffeine may not be the most important component, as other caffeinated drinks do not provide similar protection against liver disease. The polyphenols (CGA, etc.) may be responsible for the positive metabolic effects of coffee. There is experimental evidence that coffee with high CGA concentrations can modulate glucose intolerance and improve/decrease NAFLD development in obese rats.
Coffee is a rich source of dietary antioxidants. The antioxidant capacities of both hydrophilic components (like caffeine and CGA) as well as hydrophobic components (like cafestol, kahweol and trigenolline) have been extensively investigated using both chemical assays as well as biological systems, including cell culture, animal and human studies. Maillard reaction products (MRP) that provide the aroma, flavor and color of different brewed coffees are generated during the roasting process and significantly contribute to its antioxidant activity.
Effect of coffee on evolution of liver disease has also been attributed to its anti-fibrotic effects. In a rat model, coffee has been shown to attenuate thioacetamide induced liver inflammation and fibrosis. Animal studies have shown that coffee decreases expression of transforming growth factor-β and connective tissue growth factor, thus contributing to reduced fibrosis. Furthermore, in rat models of alcohol induced liver injury, caffeine has been shown to be protective against alcohol-induced liver fibrosis by dampening the cAMP/PKA/CREB pathway in rat hepatic stellate cells.


How much coffee and a word of caution
The beneficial effects of coffee are reported for ≥2 cups/day. One cup is equivalent to 10 gm of whole bean coffee and 5 gm of instant coffee. Incremental beneficial effects have been reported up to 4-6 coffee cups a day. However, coffee drinking in pediatric age group should be discouraged in view of side effects of caffeine in form of anxiety, restlessness, etc. Up to 400 mg of caffeine a day is considered safe.
However young people consuming large amount of coffee should always be warmed about possible side effects such as headaches and insomnia and potential risk of dependence. Caffeine use disorder is identified as a research diagnosis in DSM-5 (e.g. meant to encourage studies but not be used in clinical settings). Several case studies demonstrate that high caffeine intake can lead to dependence in a manner similar to other psychoactive substances.
Excessive coffee can also have other untoward effects. In an observational study of 217 people (median age 17) who used caffeinated energy drinks recreationally, 87 percent had adverse effects (palpitations, tremor, agitation, and gastrointestinal upset). Twenty-one individuals demonstrated serious neurologic or cardiac signs (arrhythmias, ischemia, seizures, hallucinations). More than 125 were hospitalized for adverse effects, and of these, 57 consumed caffeinated energy drinks alone. Also, there is some data that coffee drinking beyond 300ml/day may be associated with increased cardiovascular complications.
The data provided in favor of coffee consumption in liver disease patients may seem to be overwhelming. However, it should be understood that most of the trials listed above have either been retrospective, observational and/or cross sectional point prevalence studies. In the absence of significant prospective data, conclusive comments can only be made about the association between coffee drinking and better liver health. In other words, we need more interventional, prospective trials before we can say that coffee drinking causes less liver disease.
Coffee is beneficial for health in general and particularly for patients with liver disease. Consumption of coffee ≥2 cups/day protects against progression of almost all forms of liver disease. Usual mechanisms involved are prevention of fibrosis, carcinogenesis and antioxidant effect. The incidence of advanced fibrosis and cirrhosis is lower among coffee drinkers.
The risk of hepatocellular carcinoma also is lower in coffee drinkers compared non-coffee consuming population. The protective effects are irrespective of etiology of liver disease, and more pronounced in alcohol related liver disease. However, in view of retrospective nature of data, more interventional trials are required before coffee finds its way in the regular prescription in liver disease patients.
Image Source : Getty
Read more articles in Press Release