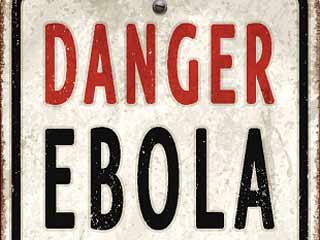 Becoming the first case of Ebola in the country, a 26-year old Indian was tested positive for the deadly virus. Though he showed no symptoms of being infected, his body fluid tests had positive results.
Ringing an alarm in the country an Indian national who was returning from Liberia was tested positive for the fatal virus Ebola, following which he was quarantined at a special facility at Delhi airport.

According to the Health Ministry, the 26-year old man who landed here on 10 November had been given treatment for the deadly disease in the African country. Though he had no symptoms but his semen tests showed positive results making the authorities to put him under isolation.

Although the man had contracted virus on a foreign land and was already treated there he still became the first confirmed case of Ebola in India.

The statement given by the health ministry said "the situation is under control and there is no need for any alarm. However, all precautions are being taken in this regard".

The ministry added that it is a known fact that when people are recovering from Ebola they continue to shed virus in body fluids for variable periods.

Health minister JP Nadda said "this case was that of a high risk patient. He had already undergone treatment. When he came to India, he was quarantined and kept in isolation and was under observation."

Nadda told that all the tests turned out to be negative initially and the victim showed no signs of Ebola.

"Then we decided that body fluids must also be tested. After that was done, both the National Centre for Disease Control (NCDC) and the National Institute of Biologicals (NIB) reports came positive," he said.

"The situation is being closely monitored. We are cautious and there is no need to panic. The situation is under control".

The virus present in his semen sample may have a possibility of transmitting the disease through sexual route up to 90 days from the time of clinical cure.

The victim will be kept under isolation in the special health facility of Delhi Airport Health Organization till his body fluids test negative and he is found to be medically fit to be discharged.
Image courtesy: Getty Images
News source: firstpost.com
Read more Health News.