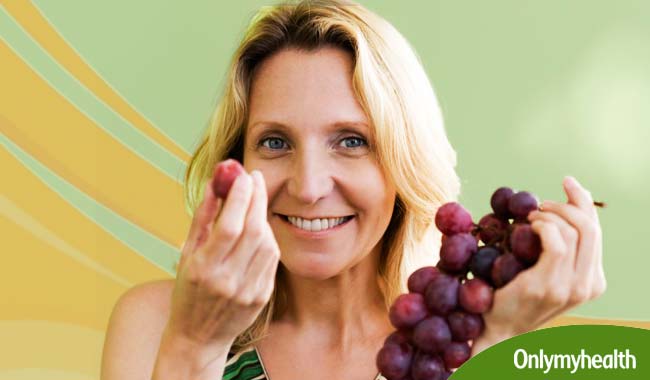 Eating grapes may have a positive effect on your health, says a study. The natural compounds derived from the fruit act as therapeutic agents that help treat depression. The compounds target newly developed underlying mechanisms of the disease.

"The discovery of these new, natural grape-derived polyphenol compounds targeting cellular and molecular pathways associated with inflammation may provide an effective way to treat a subset of people with depression and anxiety, a condition that affects so many people," said lead researcher Giulio Maria Pasinetti, Professor at Icahn School of Medicine at Mount Sinai in New York.

Depression is associated with a multitude of pathological processes, including inflammation of the peripheral immune system - a set of biological structures and processes in the lymph nodes and other tissues that protect against disease and abnormalities involving synapses, the structures that permit neurons to pass an electrical or chemical signal to other neurons.

The available antidepressants are limited to targeting systems that regulate dopamine, serotonin, and other related neurotransmitters.

These antidepressants do not particularly target synaptic maladaptations and inflammations associated with major depressive disorder.

Researchers have found that a bioactive dietary polyphenol preparation from grape was effective in promoting resilience against stress-induced depression in mice.

In the findings, the researchers also demonstrated that DHCA/Mal-gluc treatment was effective in attenuating depression-like phenotypes in a mouse model of increased systemic inflammation induced by transplantation of cells from the bone marrow of stress-susceptible mice.

Jun Wang, an associate professor at Ichan said, "Our research shows that combination treatment with the two compounds can promote resilience against stress-mediated depression-like phenotypes by modulating systemic inflammatory responses and brain synaptic plasticity in a mouse model of depression."
This study suggests the need to test and identify novel compounds that target alternative pathologic mechanisms, such as inflammation and synaptic maladaptation, for individuals resistant to currently available treatment.
The findings were published in the journal, Nature Communications.