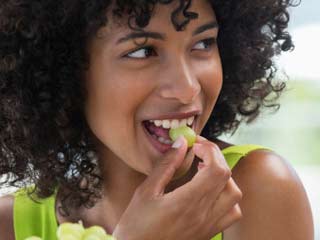 A new study has shown eating fruits and vegetables on a regular basis is linked with a higher mental wellbeing of an individual.
Eating a diet which includes fruits and vegetables has always been considered to be the best for your body. But, a recent study has shown that it can also boost your mental health.

The research that was conducted by the University of Warwick's Medical School used the data from Health Survey for England. In the study, that focused on the mental wellbeing, high and low level of mental wellbeing was seen to be associated with a person's consumption of fruit and vegetables.

Out of the total respondents, 33.5 per cent who had a high mental wellbeing consumed five or more portions of fruit and vegetables in a day compared with 6.8 per cent respondents who ate only less than one portion.

The lead author of the study, Dr Saverio Stranges said "the data suggest that higher an individual's fruit and vegetable intake the lower the chance of their having low mental wellbeing".

The researchers said that 31.4 per cent of those who were found to have a high mental wellbeing ate three to four portions and 28.4 per cent had one to two portions.

Although there are other health-related behaviours found to be associated with mental wellbeing but, only factors like smoking and eating fruits and vegetables were found to be consistently associated in both men and women. According to the researchers, alcohol intake and obesity were not found to be linked with high mental wellbeing.

Dr Saverio Stranges said "along with smoking, fruit and vegetable consumption was the health-related behaviour most consistently associated with both low and high mental wellbeing. These novel findings suggest that fruit and vegetable intake may play a potential role as a driver, not just of physical, but also of mental wellbeing in the general population".

The researchers said mental wellbeing plays an important role in our lives as it not only prevents mental illness it can also protect people from common and serious physical diseases.
Image courtesy: Getty Images
News source: timesofindia.indiatimes.com
Read more Health News.