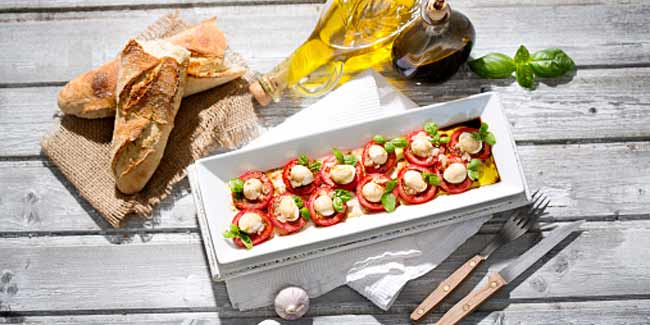 Mediterranean diet is the world's most effective diet for health and weight loss and it is also quite ancient. Learn the fascinating modern science facts behind the classic and delicious Mediterranean diet basics and eat like a Greek God to
There was a region unknown to a major part of the world, where people tended to live unusually long and healthy lives- the island of Ikaria, Greece. Recently, scientists and journalists are giving considerable attention to the region to unlock the mysteries of its long-living residents- many of whom live up to age 100 or older.

Food clearly plays a role in extending a person's lifespans and Mediterranean diet has been linked to lower rates of cancer, obesity, Alzheimer's disease, and most recently heart disease. One of the world's most ancient diets is the most effective one for health and weight loss.

You don't have to blindly trust us; we have brought for you the fascinating modern science behind the classic and delicious Mediterranean diet basics mentioned by Maria Loi and Sarah Toland reveal in their new book The Greek Diet.
Greek yogurt
Curbing hunger, increasing feelings of fullness, stabilizing blood sugar levels, reducing cravings, and preventing overeating- Greek yogurt can do it all for you. It has abundantly more protein per ounce than almost any other ready-to-eat food. Your body burns more calories metabolizing and digesting protein than it does carbohydrates.

While other foods contain probiotics (good-for-your-gut bacteria), yogurt is the tastier way to get the daily dose needed to keep your microbiota in a fat-burning zone. Studies have found that if you don't have the right germs in your body, you'll have a hard time losing weight, no matter how little you eat or how much you exercise.
Vegetables
Even a moderate low in micronutrients such as vitamins, minerals, antioxidants, and phytochemicals can make it difficult for you to lose weight. Studies suggest that when we're tired, we're more likely to give into the craving for junk food. The micronutrients in vegetables increase your metabolism and fire your body with energy.

Vegetables consist of approximately 90 percent water, which prevents even the slightest form of dehydration, which can spoil your metabolism and body's fat-burning ability. Water also raises the volume of a food without adding calories, keeping you feeling satiated for longer. Water's filling effect is even more noticeable when combined with the insoluble fibre in vegetables, and this fibre adds bulk and helps speed the digestive process.
Olive oil
As compared to almost any other common oils or foods, olive oil has the highest amount of monosaturated fat. Research has discovered that ingesting olive oil instead of foods high in saturated fats, raises the amount of energy your body uses at rest significantly. This means that you'll burn calories even while sitting or sleeping.

And not just consuming it, even the smell of olive oil helps people feel fuller and responsively eat lesser calories, according to a German study. Study participants whose yogurt contained a grassy scent extract from olive oil ate fewer calories and had better blood-sugar levels after the meal than those whose yogurt was mixed with canola oil, butter, or lard.
Beans
Both soluble and insoluble fibre is needed for effective weight loss, and other than beans, there is no other single food that has more of both of these. Soluble fibre breaks up with liquids in the stomach to form a sticky gel. This gel elaborates, making you feel fuller because the foods are held for longer in stomach. Insoluble fibre works by absorbing water, which in turn adds bulk to your digestive system and works with soluble fibre to make you feel fuller.
Seafood
Omega-3 fatty acids are requisite to metabolism, blood-sugar sensitivity, and every other factor that affects our bodies' ability to burn fat. And the sad part is, almost ninety-nine percent of Americans don't get enough of these. Fatty fish have more omega-3s than leaner fish such as tuna, but seafood contains more EPA/DHA omega-3s—the types of the fatty acid with the most health benefits than any other food. Mediterranean diet includes eating fish and shellfish at least twice a week that increases metabolism by as much as 400 calories a day, and prevent fat cells from enlarging, particularly around your stomach.

Greek food is a delicious addition to a healthy diet. Start with a Greek salad to eat more like a Mediterranean. Here is a Mediterranean salad recipe that you can serve with grilled chicken or steak for supper or on a bed of greens for a satisfying lunch.
Cucumber & Black-eyed pea salad
Ingredients:
3 tablespoons extra-virgin olive oil
2 tablespoons lemon juice
2 teaspoons chopped fresh oregano, or 1 teaspoon dried
Freshly ground pepper to taste
4 cups peeled and diced cucumbers
1 14-ounce can black-eyed peas, rinsed
2/3 cup diced red bell pepper
1/2 cup crumbled feta cheese
1/4 cup slivered red onion
2 tablespoons chopped black olives
Preparation
Whip oil, lemon juice, oregano and pepper in a large bowl until combined. Add cucumber, black-eyed peas, bell pepper, feta, onion and olives; toss to coat. Serve at room temperature or chilled.

Nutritional value of this salad per serving is: 160 calories; 10 g fat (3 g sat, 6 g mono); 11 mg cholesterol; 12 g carbohydrates; 5 g protein; 3 g fibre; 270 mg sodium; 273 mg potassium. You also get to ingest vitamin C and A as a nutritional bonus from it.

Although we can't adopt all aspects of the Greek-island lifestyle, we can still adopt some of the eating patterns and dietary traditions practiced there. The best part of eating like a Greek is not only having a healthy meal but one that's also delicious.

Image Source: Getty