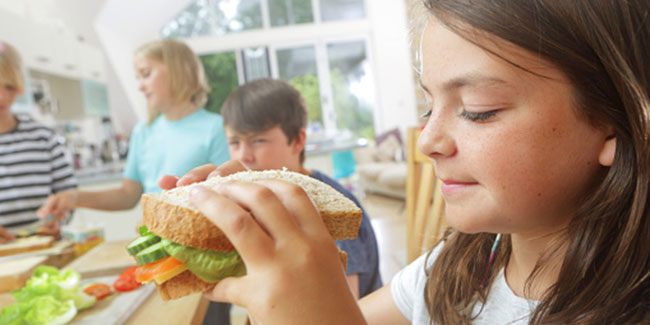 What kind of a diet we should take during exams?
A balanced diet will boost your energy. A wholesome breakfast is vital for a healthy mind. Do not skip breakfast. A good breakfast is a mixture of complex carbohydrate sources like whole grain cereals -wheat . jowar, bajra, fruits, vegetables - potatoes, sweet potatoes. Proteins like milk and milk products, soya tofu, beans, egg, fish, chicken, nuts is essential for good brain functioning. If your child is anemic, give your child iron rich diet like lots of greens and jaggery. Munch a fruit in every small break. Increase your fluid intake, it helps to flush toxins. It is good to take Herbal tea rather than coffee or regular tea. Healthy drinks like lassi, lemon juice, coconut water are great nourishers.
What should we avoid?
Avoid stimulants like caffeine (coffee and tea) as it produces nervousness in reaction. Do not skip breakfast or any meals. Avoid heavy meals or fried foods as they make child feel drowsy. Take control of munching especially oily junk foods as they make you gain weight and don't provide adequate nutrition. So stay away from junk food and fizzy drinks .Do not study at a stretch, take a few minutes break after every couple of hours.
How should we revise?
Make studying a part of your everyday school routine and don't be limited to 'cramming' for exams and tests Establish a routine. Set aside a particular time each day for study and revision and stick to it.
Create a study environment away from interruptions and household noise, such as the television. Ensure there is adequate lighting and ventilation, a comfortable chair and an appropriate desk.
Set a timetable to cover all your subjects in an organized way, allotting the appropriate time for each subject.
Avoid interrupting your concentration. Have all the appropriate materials with you before you start a session of study to minimize distractions.
Test yourself on what you have studied. Ask your parents or family members to quiz you on what you have learnt, use draft questions from books, past assessments or major exam papers. Ask your teachers for guidance.
Please give some important tips in order to do well in exams.
Look after yourself. Drink plenty of fluids, especially water and eat healthy foods. Keep sugary foods to a minimum. Make sure you get enough sleep each night. Regular physical exercise makes you feel great, boosts your energy and helps you relax. So try to keep up regular sporting activities or at least fit in some regular exercise as often as you can.
Reward yourself for studying. Watch your favourite television program, spend time with your friends, walk to the park and play sport .
Don't panic at exam time. Be positive. Try to keep yourself calm, positive and confident.
If anxiety or stress struggles continue, talk them over with your doctor. Do not worry about your results. Give your best shots and move over.
– Dr Rachna Singh, homoepathic Consultant, Lifestyle Management Expert