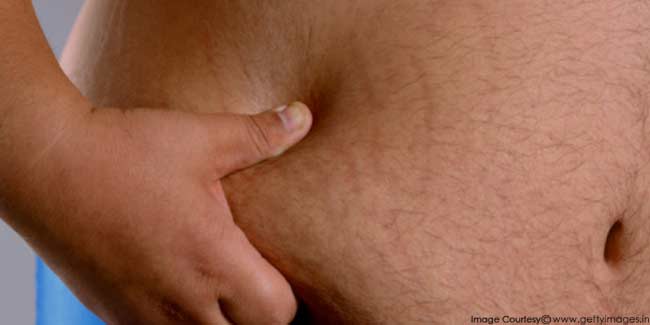 It's a known fact that weight gain can lead various medical problems, such as diabetes, obesity and heart ailments. What is little known is that sudden weight gain can result in the occurrence of stretch marks on the skin.
Sudden weight gain makes the skin more elastic because the skin has to stretch itself to accommodate the increased weight gain. Stretch marks first appear due to hormonal imbalance at puberty. As one grows older, the number of stretch marks start increasing and women experience dark stretch marks on their breasts and hips. Appearance of stretch marks and weight gain are therefore, closely associated. When a person puts on weight, his/her skin overstretches changing the collagen in the skin resulting in white shiny or reddish purple lines.
If a person reduces weight, the stretch marks start fading, but if the weight gain still persists the marks get thicker and darker. With reduction in weight, the blood vessels present in the stretch marks get inside the skin, but stay in the body. On the contrary, with addition of extra pounds, such as during pregnancy, the blood vessels thin out and acquire a deeper purple colour.

Muscle building
Building muscles and making them large does not mean gaining weight, though muscle building can stretch the skin causing reddish purple stretch marks to appear. These marks, however, will be light and will appear on the arms, legs and buttocks.
Prone areas
The most common areas prone to stretch marks caused by weight gain are the sides of the legs, buttocks, arms, abdomen, breasts, waist in women and thighs. If a person is obese, stretch marks may also appear in the inner sides of his/her legs. Stretch marks on the buttocks appear like thick spider veins and remain so despite weight loss, thereby leaving the skin stretched forever.
Ways to prevent stretch marks
Exercise and healthy diet are prerequisites for prevention of the occurrence of stretch marks. Make sure that your weight loss diet plan is approved by a dietician and doesn't miss on nutrients that are necessary to keep skin healthy. A healthy lifestyle can significantly avert the chances of sudden weight gain that may cause stretch marks. Another way of preventing the likelihood of stretch marks is to increase fluid intake.
Stretch marks must be removed with plastic surgery or laser treatment, however, these surgical treatments may put additional burden on your pocket. There are a number of creams available in the market that may help in getting rid of stretch marks without having to spend a fortune
Read more articles on Weight Gain.