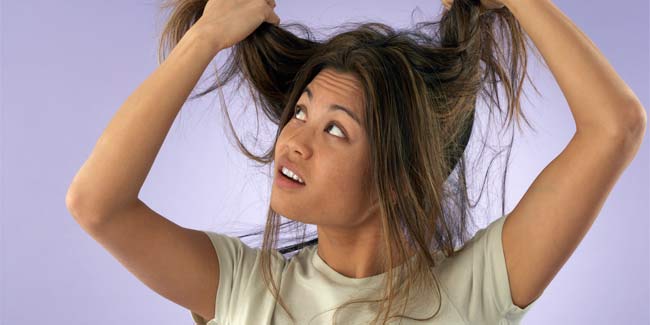 Hair depends on a balance of proteins, nutrients and oils to support healthy roots. A protein-rich treatment helps repair damaged hair.


Daily hair styling and environmental pollution may strip life out of your hair. One of the best ways to give hair life back is protein treatment. Protein treatments strengthen and treat your hair by rebuilding proteins, leaving hair soft, smooth and healthy.

Protein treatments smooth the cuticle of the hair, creating polished strands and stronger hair. The good thing about these solutions is that you can make your own treatment at home. Homemade protein treatments are all natural and with frequent use you can ensure health for your hair.
For Brittle or Damaged Hair
Protein treatments to strengthen weak or brittle hair must contain vitamin B5, antioxidant vitamins and milk proteins. These constituents help rebuild the hair's amino acids and protect against damage sustained from hair styling products and environmental factors. Some of the effective natural protein treatments are as follows:

Egg mask

Egg is one of the best sources of protein for your hair. The yolk is rich in protein to provide all moisture your hair needs while the white is full of bacteria eating enzymes to cleanse your hair and scalp. For normal to dry hair, one can use a full egg. But for oily hair and scalp, only whites should be used.
Depending on the length and thickness of your hair, take one egg or two and beat it.
You can use a few drops of lemon juice to it.
Apply it on your hair and scalp.
Cover your hair with a shower cap and leave it on for 20 minutes.
Rinse with cold water and shampoo.

Yoghurt treatment

Yoghurt can be used to cleanse the scalp. It has lactic acid, which help damaged hair revive its sheen.
Combine egg and yoghurt.
Massage it into your hair and leave it for 20 minutes.
Rinse and shampoo hair.
Mayonnaise and Avocado

A combination of mayonnaise and avocado can work wonders for damaged hair. Mayonnaise, prepared from oil and egg, can be used as a moisturiser for hair. On the other hand, avocados are high in fat to make hair less prone to breakage.
Combine two tablespoons of mayonnaise and one mashed avocado.
Apply the paste and distribute it evenly using a wide tooth comb.
For Treating Split Ends
Protein treatments can help split ends problem by moisturizing and sealing them.

Avocado, olive oil and egg
Mash up the avocado and mix in the egg whites and olive oil.
Apply the paste to your hair and cover it with a shower cap.
Leave it for 20 to 30 minutes before rinsing.

Papaya and yoghurt
Cut the papaya, scoop out the seeds and mash it up.
Combine mashed papaya with yoghurt.
Apply it on hair like conditioner and cover with a shower cap.
Leave it for 30 minutes and rinse with cold water.
Read more articles on Hair Care.