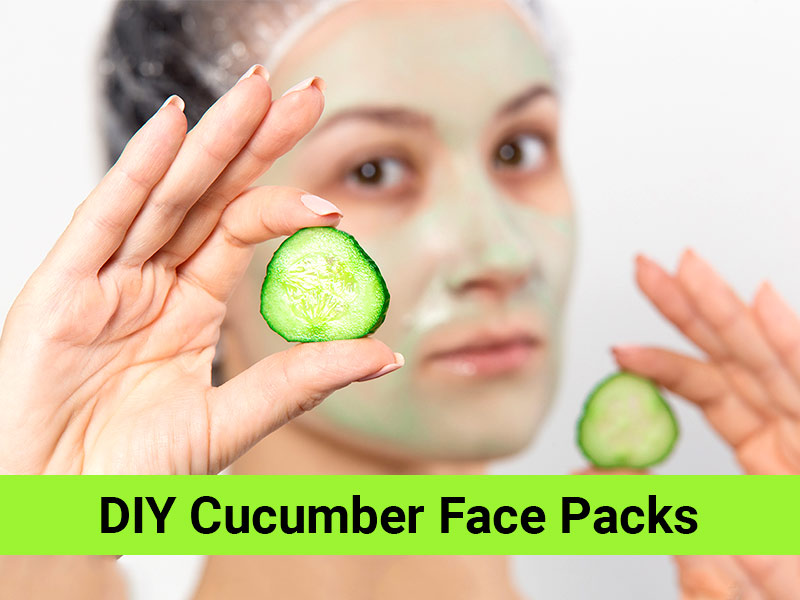 We all know cucumbers as a salad ingredient or a healthy summer snack. Fresh and chilled cucumbers sprinkled with salt and lemon juice are the ultimate food you need to curb immediate cravings, right? These are healthy, delicious and loaded with water content. This is why these are said to be great for summer hunger. But apart from its consumption, you can also avail its benefits through topical application. Yes, cucumbers when applied to face leaving behind a cooling effect that helps the skin breathe and rejuvenate. There are several benefits of cucumber on skin that you can read about in this article.
Why cucumber for skin?
You must be wondering how cucumber helps skin. Here are some convincing reasons:
Cucumber is loaded with water that makes it supremely hydrating for the skin.
Its application replenishes water loss, especially during the summer heat.
It is rich in antioxidants that make it apt to fight free radical damage caused by numerous environmental and external factors.
Cucumber is rich in some essential nutrients like vitamins A and C. Minerals like potassium and biotin are also present in cucumber.
It helps in de-tanning and skin brightening.
Cucumber water is a potent toner to tone the face.
Now you know why cucumber is a must skincare ingredient. Let us now tell you different ways to incorporate cucumber into your summer skincare routine.
How to use cucumber on the face
Here are five ways to utilize cucumber: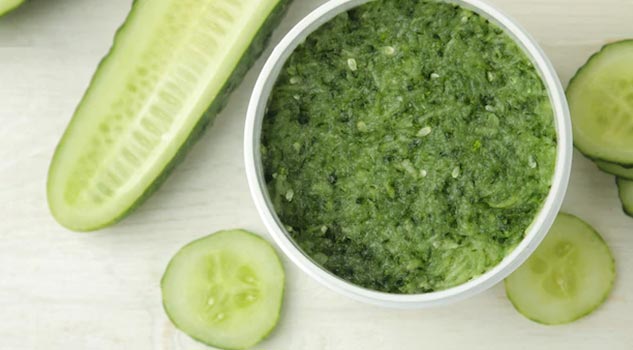 Cucumber Pack
Cucumber alone is an excellent skincare ingredient. You can simply apply cucumber slices to your face to avail the benefits. You must have seen people apply cucumber to eyes during a facial treatment. Do you know why? Because it provides anti-wrinkle effects. If you regularly apply cucumber on your eyes and face, you can prevent the onset of wrinkles. It also reduces puffiness. Follow these steps:
Cut a cold cucumber into thin slices. Do not peel the skin.
If needed, put cucumber slices in the fridge for 10 minutes to allow them to cool before use.
Put cucumber slices all over the face including the eyes and relax.
Just feel the calmness and allow the nerves to relax.
Keep these for 15-20 minutes and then remove.
Do not wash your face after this.
Cucumber & Aloe Vera Face Mask
Both aloe vera and cucumber are great for the skin. Their individual application offers multitude benefits, imagine what would happen when you combine them! This combination is great to combat aging skin. These together boost hydration, healing and rejuvenation of the skin.
In a blender, add cucumber and aloe vera gel. Blend them well to form a smooth paste.
Wash your face with a face wash and apply this cooling face pack.
Keep it for 15-20 minutes and then wash it off.
Now, apply a good moisturizer for smooth skin. This would keep skin elasticity intact.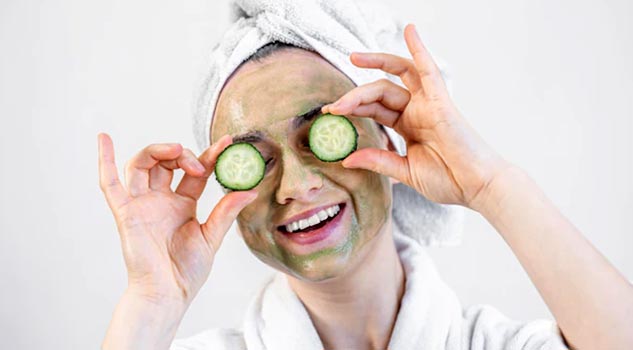 Cucumber with Yogurt
If your skin feels hot and irritated, you must soothe it with yogurt and cucumber face mask. Sunburn and heat badly impact your skin and so, you must try this face pack to de-tan and soothe inflamed skin. This is also helpful in closing open pores.
Make a puree of cucumber and add a teaspoon of yogurt. You can adjust the ratio according to your preference.
Apply this thick paste on your skin including your neck.
You can use this pack on your hands as well to soothe them.
Keep it for 20 minutes and then wash with running water or cold water.
Now, apply a good oil-free moisturizer to hydrate the skin.
Conclusion
You can make face packs with cucumber but the best way to use cucumber throughout the day is in the form of toner. Simply spray some at any time anywhere to feel refreshed and rejuvenated instantly. For this, you can club cucumber water with rose water. Keep this in a spray bottle to carry and use.
Image credits- freepik