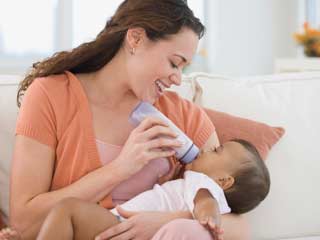 Findings of a recent study showed that protein found in cow's milk when clubbed with an antiretroviral drug can effectively treat AIDS/HIV infection in infants.
A recent study showed that by binding a protein found in cow's milk with an antiretroviral drug can significantly improve treatment for infants and young children suffering from HIV/AIDS.

Ritonavir, which is one of the most commonly prescribed drug to treat and prevent HIV infection leaves behind side-effects and has oral-delivery problems.

According to Feferico Harte, associate professor of food science at Pennsylvania State University said the physiochemical properties it contains make it difficult to be administered to infants.

Harte added "Ritonavir has a high hydrophobicity and low solubility in water, which lead to a low dissolution rate in the gastrointestinal fluid and, hence, to insufficient bioavailability.

"The liquid formulation used to treat infants over one month of age contains 43 per cent ethanol and has an awful flavour that has been described as bitter-metallic, medicinal, astringent, sour and burning".

"Moreover, when coming into contact with the stomach mucosa, Ritonavir causes nausea, vomiting and diarrhoea. Therefore, we need to develop alternative paediatric formulations of Ritonavir and overcome its poor water solubility to improve its oral administration to infants and children".

A group of proteins in cow's milk called caseins were analysed by Harte. These proteins form spherical aggregates called casein micelles, which provides white colour to milk.

Harte says that casein micelles found in mammals' milk can deliver amino acids and calcium from mother to young one and might deliver Ritonavir molecules also.

He says "I have been working with bovine casein micelles for a few years now, and we have investigated the structure and functionality of these proteins".

"What we found is these micelles are able to carry molecules that have very little solubility in water, that have low molecular weight and that are very hydrophobic - such as Ritonavir".

It was discovered by Harte that when milk is made to undergo ultrahigh-pressure homogenization, it enhances the binding properties of the casein micelles.
Image courtesy: Getty Images
News source: timesofindia.indiatimes.com
Read more Health News.