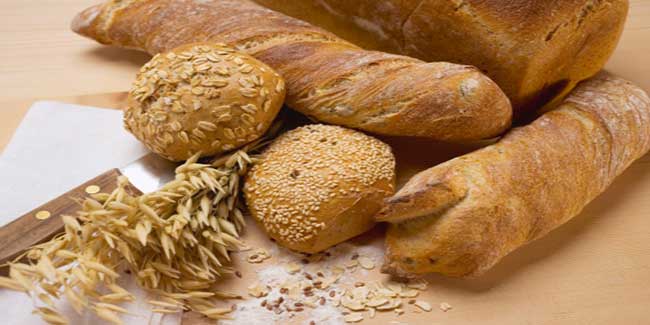 Bread is considered as a balanced, diet that yields protein, fiber, carbohydrate and fat. Here are few facts of bread one should know while selecting.
It is believed that breaking bread is a universal sign of peace. It is also believed that bread is probably one food eaten by people of every race, culture, and religion.
Humour has it that if you put a piece of bread in a baby's cradle, it will keep him or her away from the disease. Bible calls the Christian Savior, Jesus Christ, as the "Bread of Life".
With so many references to bread, it is often considered as a well-balanced, nutritious diet that yields plenty of protein, fiber, carbohydrate and healthy fat. However, other than its well-preferred taste, here are some of the other facts about bread that one should bear in mind while selecting bread:
Brown bread is usually perceived as healthy, however it won't provide you with nearly as much fiber as wholemeal bread would.
A whole grain loaf of bread is packed with umpteen amount of fiber that may help in fighting colon cancer. Keep in mind that it can also blocks the transportation of various minerals.
Never mistake multigrain bread with rye bread, as they both are same in colour but varied in texture.
Vitamin B12 is found only in multigrain bread- which is mostly found in animal-based foods- which makes multigrain bread as a preferred choice for vegetarians.
Bread is rich in antioxidants and Vitamin E and is one of the richest suppliers of iron. It is also full of zinc which is needed for the nervous system and is essential in sperm production.
Now that you are acquainted with some of the advantages of eating bread, you must be wondering about the different varieties of bread available in the market. Choose your pick-
White Bread
Medical experts suggest that four slices of white bread a day will provide you with one sixth of your recommended calcium and iron intake. White bread is also full of Vitamin B1 and thiamine which is much needed for muscle and nerve functioning.
Brown Bread
Doctors are of an opinion that similar to white bread, four slices of brown bread a day provide us with a sixth of our recommended calcium intake. It contains only a sixth of a fiber which is found in wholemeal bread. However, while choosing brown bread, one should always check for its authenticity- as often it is just white colour bread which is made brown.
Wheat Germ Bread
Nutritionists suggest that this bread is a chief source of folic acid, Vitamin B complex and thiacin. It is an excellent source of white blood cells which in turns builds immunity.
Oatmeal Bread
Doctors recommend that oatmeal bread is an excellent source of fiber and it assists in lowering blood cholesterol levels. It also helps in keeping constipation at distance and is super-excellent source of Vitamin B. Nutritionists suggest that two slices of oatmeal bread per day cover up to one third of your Vitamin B recommended requirements.
Rye Bread
Rye bread is known for building immunity and aids in digestion problems. It is packed with essential minerals and antioxidants. Doctors recommend that two slices of rye bread per day will provide you with your 25 per cent of complex carbohydrate intake for the day.
Multi Grain Bread
Doctors are of an opinion that multi grain breads are packed with no extra added sugar or fat and is enriched with folic acid which is full of heart-healthy benefits.
Amidst all these varieties of bread, homemade bread is tastier than the typical store-bought loaf, and the blissful and delightful smell of roasting bread can instantaneously perk up your mood.
So, it's about time you chose your pick and relish that slice of bread, which will not only satiate your taste buds but will also provide you with an extra edge, nutritionally.
Image Source: Getty