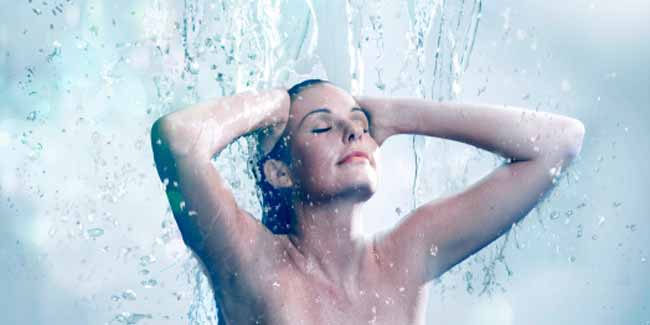 Taking a shower under hot shower can be therapeutic. It can leave your skin clean and fresh. But, using cold water is better for your skin and hair because it does not leave them dry, unlike hot water. Here are some benefits of choosing cold water bath over a hot one.
For Skin
Sealing Pores

Washing your skin with hot water opens its pores. Athough this will allow you to clean up your skin properly, you must wash it with cold water to close the pores. This will prevent the pores from getting clogged with oil and dirt which can lead to acne-causing bacteria.
Protecting Skin's Natural Oils

Hot water can make your skin dry by ripping it off all natural oils. When the pores open up after coming in contact with hot water, they lose natural oils. Losing the protective oils makes the skin dry and flaky and eventually the skin cells die giving birth to fine lines and wrinkles. On the contrary, when you wash your skin with cold water, the skin retains its natural oils.
Puffiness Reduction
Cold water tightens the blood vessels, which reduces swelling and under eye circles.
For Hair
Protecting Sebum
Sebum is a natural oil which is needed to protect the hair and skin. When you take a shower with hot water, it dries out the sebum which leads to dry and damaged hair. On the other hand, cold water can prevent the loss of sebum and can strengthen your hair thus, preventing hair loss.
Closing of Hair Cuticles
If the hair is washed with cold water, the cuticles lie flat. When the cuticles are closed, they happen to reflect more light, making your hair to appear shinier and healthier.
Frizz Reduction
Just like the skin, hot water can damage your hair. Once the natural oils are stripped off the hair, it leaves them brittle and damaged. After washing your hair, rinse it with cold water for sometime so that the hair cuticles are closed. This will reduce the frizziness, leaving your hair shinier.

If taking a cold water bath is not what you enjoy, wash your body with cold water for a couple of minutes to have a healthier skin and hair.
Image courtesy: Getty Images
Read more on Healthy Hair.