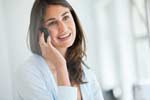 Indian born American physician Dr Siddhartha Mukherjee has said that the "preponderance of evidence suggest that there is no link cell phone radiation and cancer".
Go ahead and use your cell phone: it won't cause cancer, says Indian-born American cancer specialist Siddhartha Mukherjee, who received the Pulitzer Prize for his book, The Emperor of All Maladies: A Biography of Cancer in 2010.


He trashed the theory that the electromagnetic field (EMF) produced by mobile phones can cause cancer. He says there is no scientific evidence for this.

This has come almost a year after World Health Organisation panel added cell phones to a list of things that are "possibly carcinogenic."

"If mobile phones were to cause brain cancer, as has been suggested, the incidence of the disease should have gone up several times with increase in their usage over the past two decades. This has not happened. On the other hand, data shows increased use of tobacco-a scientifically proven carcinogen-has led to a sharp increase in the incidence of cancers of mouth and lung, among others," he said.

Mukherjee said identifying possible carcinogens is like a crime investigation and all evidence has to be pieced together to reach a conclusion. "There is no single clinching evidence in most such cases," he said, and called for further investigations to establish a link between mobile phone radiation and cancer.

In a recent article in the New York Times, Dr Mukherjee said, "The kind of radiation emitted by cellphones-unlike the radiation emitted by X-rays or nuclear bombs-cannot directly damage the DNA. The frequency of cellphone radiation is more than a million-fold lower," he added.

On tower radiation, he said there is not too much known about it but studies have shown a largely negative relation.
What had the WHO said?
In 2011, WHO had classified radiation from mobile phones as a possible cancer risk, based on the opinion of an expert group from its International Agency for Research on Cancer. After an inter-ministerial committee appointed by the government of India also pointed to possible health risks posed by mobile phones and towers, it was decided to lower the level of radiation emitted by cell phone towers to a tenth of the prevailing standard-from 9.2 to 0.92 watts per square metre. The industry had opposed the idea.
Why is there concern that cell phones may cause cancer or other health problems?
There are three main reasons why people are concerned that cell phones (also known as "wireless" or "mobile" telephones) might have the potential to cause certain types of cancer or other health problems:
Cell phones emit radiofrequency energy (radio waves), a form of non-ionizing radiation. Tissues nearest to where the phone is held can absorb this energy.
The number of cell phone users has increased rapidly. As of 2010, there were more than 303 million subscribers to cell phone service in the United States, according to the Cellular Telecommunications and Internet Association. This is a nearly threefold increase from the 110 million users in 2000. Globally, the number of cell phone subscriptions is estimated by the International Telecommunications Union to be 5 billion.
Over time, the number of cell phone calls per day, the length of each call, and the amount of time people use cell phones has increased. Cell phone technology has also undergone substantial changes.


Source: TOI/ Cancer.gov

Image Source: Getty Images



Read more Health News.