An Overview of Diabetic Coma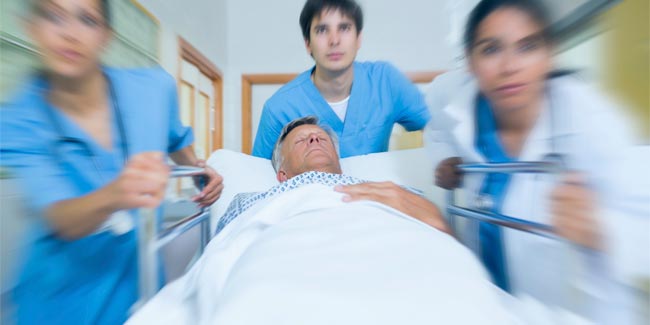 Diabetic coma is a reversible form of coma found in people with diabetes mellitus. It is categorised into hypoglycemia, ketoacidosis and hyperosmolar nonketotic.
Diabetic coma's a form of coma that is reversible. It is found in a person who has diabetes mellitus. It is termed as a medical emergency. There are three types of diabetic comas.


Medical science has identified three types of diabetic comas.
The first one is severe diabetic hypoglycemia.
The other one is diabetic ketoacidosis. This is an advanced one, which can result in unconsciousness due to a combination of rigorous hyperglycemia, exhaustion, dehydration and shock.
The third type of diabetic coma is hyperosmolar nonketotic. In this state, hyperglycemia & dehydration are enough to cause unconsciousness.

Further in the article, we will discover the symptoms, causes & risk factors of diabetic coma. We will also understand about its treatment & what to do in such a medical emergency situation.
[Read: Causes of Diabetic Coma]
Symptoms of Diabetic Coma
Since you know what is diabetic coma & its types, now understand the symptoms of diabetic coma. Before you develop diabetic coma, you will generally experience few signs and symptoms. These symptoms include high blood sugar levels or sometimes low blood sugar levels. First, let's know the symptoms noted in high blood sugar levels.

High blood sugar level (Hyperglycemia)

When blood sugar levels are high, you can experience the following:
a rapid heartbeat,
very dry mouth,
fruity breath odour,
stomach pain,
shortness of breath,
nausea and vomiting,
fatigue,
frequent urination, and
increased thirst.

Low blood sugar levels (hypoglycemia)

The low blood sugar level may cause the following signs:
confusion,
difficulty in speaking,
an irregular or sometimes a racing heartbeat,
irritability,
nausea,
hunger,
sweating,
fatigue, and
shivering or nervousness.

Since we know about the signs & symptoms of diabetic coma, let's now discover the causes of diabetic coma.

Causes of Diabetic Coma

Like we mentioned before, if your blood sugar level is too high or if it is too low, it can lead to various conditions. These conditions further lead to diabetic coma. Below, you can discover some of the main causes that lead to diabetic coma.
There are situations, when the cells in your muscles crave for energy. When this happens, your body breaks down the fat stores. This procedure produces toxic acids called as ketones. If you leave it untreated, diabetic ketoacidosis will lead to diabetic coma.
Diabetic hyperosmolar syndrome


In some cases, when the blood sugar level touches 600 mg per deciliter or when it tops 33.3 millimoles (mmol) per liter, you get in a condition, which is termed as diabetic hyperosmolar syndrome. In diabetic hyperosmolar syndrome, your blood becomes thick & syrupy. This excessive amount of sugar is tranferred from your blood to the urine and leads to a filtering process, which draws great amounts of fluids from your body.

If you leave diabetic hyperosmolar syndrome untreated, it can cause critical dehydration & coma. This syndrome is mainly common in mid-aged or older adults that already have type 2 diabetes.

It is a medical emergency that involves an abnormally diminished content of glucose in the blood and the brain requires glocuse to function. In many severe cases, people can pass out cause of low blood sugar. Hypoglycemia is caused due to a lot of insulin present in the body or very little consumption of food. Excercising vigorously & excessive drinking can also lead to Hypoglycemia.
[Read: Symptoms of Diabetic Coma]
Risk Factors of Diabetic Coma

If you've type 1 or type 2 diabtetes, the following factors will increase your risk to fall for diabetic coma:
An illness, surgery or trauma

When you're injured or sick, the blood sugar levels in your body rise. Sometimes, this happens dramatically and may lead to diabetic ketoacidosis, especially in cases, when you've got type 1 diabetes. Please ensure that you don't increase the intake of insulin in such a situation. Other medical conditions like kidney disease or congestive heart failure can hasten the risk of diabetic hyperosmolar syndrome.
Poor management of diabetes

Not monitoring your blood sugar & avoiding regular medications also increases the risk factors that lead to diabetic coma.

Skipping your regular dose of insulin is dangerous. It is a life-threatening practice, which can lead to diabetic coma.
Alcohol consumption & drugs

Alcohol has unpredictable effects on blood sugar. It can sometimes drop the blood sugar levels for a prolonged period of time. Also, the use of drugs like cocain & ecstacy can increase your chances of diabetic coma.
[Read: Long-term Complications of Diabetes]
Complications of Diabetic Coma

There are many complications that can happen due to diabetic coma. These are as follows:
loss of regular co-ordination & basic understanding,
loss of memory,
lack of intellectual understanding, and
inability to understand comprehensive things.

However, above all diabetic coma's a medical emergency. If you feel the above mentioned symptoms & think that you may pass out, call the local emergency number. In situations where a diabetic person passes out, take him or her to the nearest hospital immediately. Also, tell the emergency personnel that the unconscious person is diabetic. You can also take preventive measures to avoid diabetic coma, since you know the risk factors that trigger it.


Read more articles on Diabetes.

Written by: Gunjan Rastogi
Source: Onlymyhealth editorial team Jul 05, 2013
All possible measures have been taken to ensure accuracy, reliability, timeliness and authenticity of the information; however Onlymyhealth.com does not take any liability for the same. Using any information provided by the website is solely at the viewers' discretion. In case of any medical exigencies/ persistent health issues, we advise you to seek a qualified medical practitioner before putting to use any advice/tips given by our team or any third party in form of answers/comments on the above mentioned website.