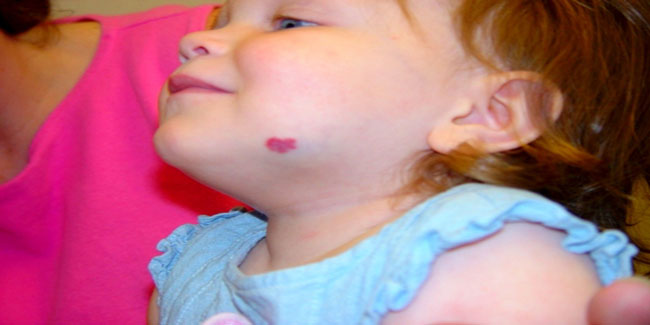 Birthmarks are discoloured areas on the skin that can be seen easily. Many newborns are congenially born with red birthmarks or they develop such marks within a week or two post birth. These are created by blood vessels close to the surface of the skin, develop either because of the overgrowth of blood vessels in the skin or because of overproduction of pigments in the skin.
(image source:windsorepeak.com)
Causes



Experts don't know the reason behind appearance of birthmarks yet. Nothing can really be done to prevent them. According to health experts, these are caused because of the localised imbalance in factors controlling the development and migration of skin cells.

Port wine stains are a result of improper functioning of the nerves that control the widening or narrowing of the capillaries (tiny blood vessels). As a result, blood is constantly supplied to the skin in that area and that turns the colour of the skin to red or purple. Port wine stains are also related to other conditions such as Sturge-Weber syndrome and Klippel-Trenaunay syndrome.
Diagnosis



The diagnosis of red birthmark is based on how it looks. A health care provider will take a close look at the birthmarks. Tests to confirm deeper birthmarks include biopsy, CT scan and MRI of the area.
Treatment



Most of the birthmarks are not a cause for concern and need no treatment. However, a few red birthmarks may be more dramatic and cause cosmetic problems, or even be precursors to cancer. Red birthmarks go away on their own by the time the baby becomes a toddler. A very few of them can resemble blood vessel tumors called hemangiomas. There are types of port wine stains that become permanent if they're not treated on time.
Hemangiomas may need treatment if it affects your appearance, causes emotional distress, causes pain and changes in size, shape, or colour. A hemangioma around a child's eye also needs to be treated as it may interfere with their ability to see.

Depending on the nature of birthmark and its size, various treatment methods can be used. A yellow pulsed-dye laser can be used for port wine stains. Concealing cosmetics (such as Covermark) can be handy to hide permanent birthmarks. To reduce the size of a hemangioma that is growing quickly and affecting vision or vital organs, oral or injected cortisone may be used. Among other treatment options for red birthmarks are beta-blocker meds, cryotherapy, laser surgery and surgery.

In rare cases, red birthmarks can be associated with other medical conditions such as growths on the liver, lungs, stomach, or intestines. You need to see a doctor in that case.
Read more articles on Newborn Care.