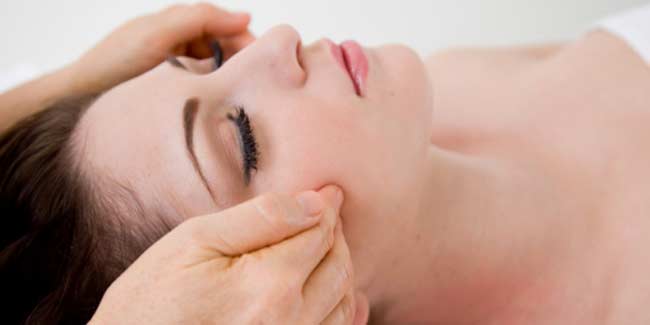 Acupressure has been used since medieval times to relieve stress and muscle tension. What many people don't know is that there are some acupressure points on face that can help you get a flawless and radiant skin taht everyone will envy.
Acupressure has been used since ages to relieve stress, treat cold and other congestions in daily life. However, acupressure does not only help deal with pain and muscle tension in the body, it can also be used to get a healthy and glowing skin by pressing the right acupressure points on face.

Stimulating the right pressure points helps your skin to regain its lost texture and youth. It happens because acupressure improves your skin's metabolism and blood circulation. Epidermis pushes a newly produced cell out of the skin which then undergoes a process and gets pushed out of the outer skin. Dry skin or spots occur when this cycle is interrupted anywhere in between.

Therefore, a healthy metabolism is essential to reduce the interruptions in this cycle. That's where simple techniques to press acupressure points for beautiful face play their role. Find some acupressure tricks here to improve your skin's blood circulation for an acne free, lovely skin.
Heavenly Pillar
The base of your skull, where your spine attaches to it is an important pressure point. The heavenly pillar lies just one inch outward from each side. Skin-related stress can be relieved by pressing these three points for two minutes daily. When your skin is relaxed, skin disorders like acne and breakage succumb. In fact, as a bonus of pressing these pressure points, you eliminate exhaustion, heaviness in the head, sleep disorders, stiff neck, strain in the eyes and sore throat as well.


Third Eye Point
This pressure point lies between your eyebrows, where your nose-bridge meets your forehead. It is used to arouse your pituitary gland which is the main endocrine gland and helps in improving your skin's condition all over the body. Massage this area with your index figure for one minute daily to reduce the risk of getting any kind of skin issues.
Blemish Free Skin
Laying a centimetre below the lower ridge of the eye socket, you can lighten your blemishes with this acupressure point for glowing face. Find it just below the iris and near the cheekbone. Again, massaging this pressure point with your index finger daily for one minute allows a blemish and acne free skin.
Dry Facial Wash
Rub and warm both your hands. Now, start moving your fingers (excluding the thumb) from the forehead till you reach the jaws. Proceed towards the cheeks near the ears and keep moving until you work up your way to the forehead. After doing this for 10 minutes, repeat the massage by starting at the jaws. All your pressure points on the face will be pressed through this massage and what you will get is an improved blood flow and a glowing skin.


Three Mile Point
To better your skin's condition throughout the body, press the pressure point located 4 centimetres below the kneecap, outside the shin bone. You will have to massage this point in circular motions with two fingers for five minutes every day. Your muscles will be toned and your skin will beam.
Heavenly Appearance
Find this acupressure point on face just behind your jaw bone and a few inches below the ear lobe. This point can bestow a magically lustrous skin upon you. You can press it anytime and the more you do it, the better. It will also ensure that your thyroid gland is balanced and hives are relieved.
Beauty Sleep Routine
Okay, this one might take a little bit of your time but in the end, it will be all worth it. So, to stimulate this acupressure point on face, you will have to press the nose-bridge area above your inner eyebrows while you apply your night cream. After holding this point for 10 seconds, reach for your temples and hold them for another 10 seconds. Now, invest 10 more seconds at the point beside the nostril. This procedure has to be repeated 8 times every night for a toned and completely relaxed skin. Besides, who doesn't like a sound sleep?

Acupressure points on face can give you a flawless skin complexion and appearance. You can expect great results by making them a part of your daily skin routine. So, make way to a happy, problem-free skin.

Image Courtesy: Getty

Read more articles on Skin Care.