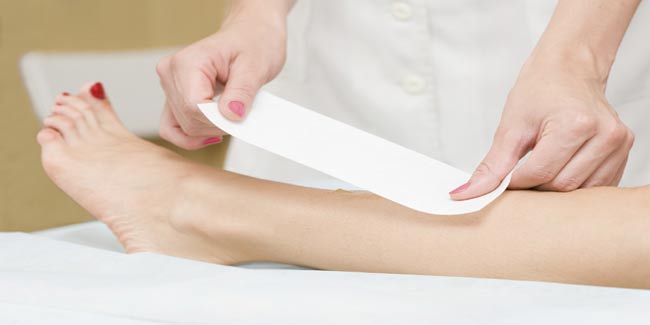 Body hair is repugnant for many and you may have tried many ways to take care of this. If you are brave enough to bear the temporary burning sensation then do go for waxing.
Waxing, very simply, is a safe and effective semi-permanent method of hair removal. Using heated wax to remove unwanted facial and body hair from the root. It basically pulls the hair from its roots and does not allow it to grow back for about two to three weeks. It could be done on any part of the body, including the face, legs, arms, back and bikini wax.
The Process
The wax which is used contains beeswax or paraffin which sticks to the hair when applied either cold or hot is applied thinly on the skin. Then with a strip of cloth or paper which is put above the wax and pressed down firmly for some seconds and allowed the wax to cool. Later it is removed with a quick movement against the direction of hair growth. What happens is that the entire hair follicle gets removed from the root if the waxing done in a correct manner.

Hair gets removed from the roots along with the applied wax. Waxing is a quick and safe procedure and may lessen hair growth if done frequently.
The Positive Side
• The best part about waxing is that you can make it happen from home by doing it yourself. You can watch videos online or read on the process of doing it and then go for the process.
• Over time, the frequent use of wax will cause the hair follicle to get damaged and therefore hair will stop growing on your skin.
• Wax can be spread over large amounts of hair and be removed all at once unlike tweezing where each hair has to be removed individually.
The Negative Side
• Not everyone can opt for waxing, and unless you have one quarter of an inch of hair then you cannot do waxing.
• It has been found that waxing can remove your hair free for up to 6 weeks, and it will be back in as little as 2 weeks.
• Waxing contradictions should be known or else you will end up with extremely red, burned and scabby skin. It is important to follow the sanitary rules when waxing.
• If you happen to wax over a waxed area if all the hair doesn't come off then you will cause your skin to get irritated and even bleed.
The Concerns
Waxing should not be done on skin which has pimples, warts or sores as it can not only be painful but might cause aggravation of the condition or infection. Skin which is sun burnt, recently exfoliated or inflamed should not be waxed. Doctors advise against waxing for people with diabetes or varicose veins. If you are on certain medications such as Retin-A, or differin, avoid waxing as these medicines make your skin weak and sensitive. Skin infections are common if hygiene is not taken care of during waxing. Problem of ingrown hair is quite common too.

Waxing is a good deal if you are wanting to remove hair from your body, but you must be sure to follow the ground rules.

Read more articles Beauty Treatments