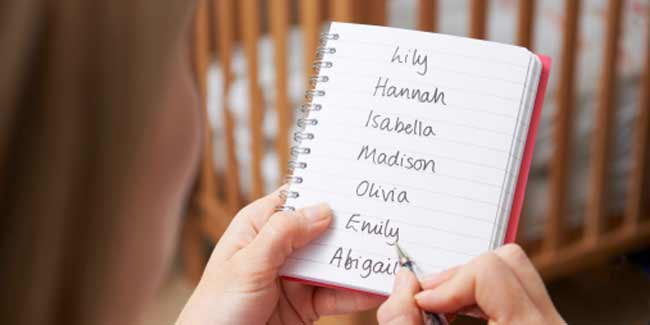 Choosing a baby's name is an important event for both the parent and the child. There are many ways that can be adopted to select baby names for your little bundle of joy.

Mythological Baby Names
Parents mostly prefer mythological names for their baby. This is mostly done with the belief that a methodological name will add virtues of that particular God to the baby. The practice of using mythological names is not only popular in India but also in other parts of the world.

Numerology
In recent years, names through numerology have become very popular. Today, many people change their name or the spelling of their name to become 'lucky'. If you believe that a lucky number can bring good fortune to your baby then select name according to numerology. You can take the help of a numerologist or numerology books widely available in the market.

Birth Time and Zodiac sign
You can also choose your baby's name according to birth time and zodiac sign. In Hinduism, the kundali of the child is prepared according to the time of birth and zodiac. With the help of this kundali the initial letter of the baby's name is determined.
Short name

There are various benefits of choosing a short name. Short names are easy to remember and pronounce. Many believe that short names sounds classy and smart however, some short names may not sound smart. Make sure that you make a wise decision!
Long Names
These days most parents consider long names as old fashioned. However, some still prefer long names, especially those who belong to royal families. Choosing a long name often creates difficulty in pronunciation. So if you have made up your mind to give your baby a long name, then make sure that you also pick up a nick name.
Trendy Names
Popular names are considered trendy. Most people prefer to choose popular names for their baby. Some prefer to name their baby after a well known celebrity, for instance, a sport personality or a film star. Irrespective of your preferences, the best way to find such name is to search for popular names on the internet.

Meaning of Name
This is an important consideration while choosing a baby name. It is believed that the meaning of one's name has strong influence on the personality of its bearer. Make sure that the name you choose notonly sounds smart, but also has a good meaning.

Choosing baby name is an import decision for parents. Remember that your baby will be recognised by the name given by you.
Image courtesy: Getty Images
Find Baby Boy Names and Baby Girl Names of your choice with their meaning and orgin.