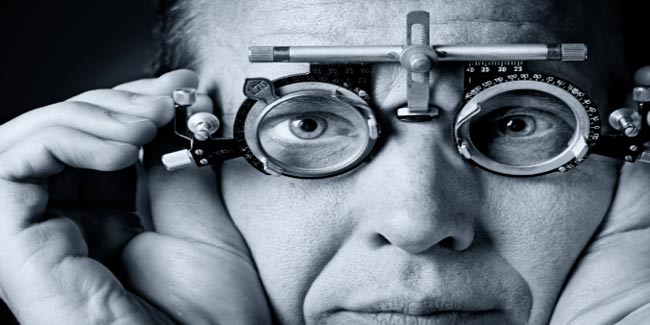 Symptoms of glaucoma depend on the type of glaucoma. Chronic glaucoma usually causes no noticeable symptoms till late in the course of disease and vision can be significantly damaged by the time it is diagnosed.
They say that your eye is the window to your soul, and one disease threatening your eyes is glaucoma. Glaucoma is a disease affecting the eye in which the fluid pressure within your eye rises and if it is left untreated then there are chances of losing vision and worse, become blind. The disease has been found to affect both eyes in general.

Symptoms of glaucoma depend on the type of glaucoma. Even the symptoms of two most common types of glaucoma (primary open-angle glaucoma and acute angle-closure glaucoma) are completely different.





Symptoms of Chronic Open-angle Glaucoma
Chronic glaucoma usually causes no noticeable symptoms till late in the course of disease as the condition develops very slowly. Most people with this type of glaucoma are not aware that their sight is being damaged.

This is because initially the outer field of vision (peripheral vision) is affected. Slowly vision loss progresses from the outer rim of the eye and involves the central vision. You may not realise side vision loss until it becomes severe as the normal or less affected eye makes up for the loss and many people tend to associate change in vision with normal ageing process. The loss of sharpness of vision (visual acuity) also does not become obvious until late in the disease. By this stage of the disease, vision is significantly affected.

Hence it is important to get your eyes checked regularly. Experts recommend that an eye test should be done at least every two years, or more frequently if your optometrist (healthcare professional who tests sight) recommends it.

Symptoms of Closed-angle Glaucoma (CAG)
Closed-angle glaucoma develops rapidly and so, the symptoms are often severe. Some signs and symptoms of CAG include:

• Intense pain in eye (the pain may occur in the eye itself or in areas around the eye).
• Redness of the eye.
• Headache.
• Pain on touch (tenderness) in the area around eye.
• Seeing halos or 'rainbow-like' rings around lights.
• Sudden, misty or severe blurring of vision.
• Nausea and vomiting.

Loss of vision may occur and progress in one or both eyes very quickly. These symptoms make many people feel sick. However in most cases the symptoms of acute angle closure glaucoma are not constant. They may last for a few hours (one or two hours) before disappearing again. Some people may experience short episodes of symptoms (subacute closed-angle glaucoma) that start in the evening and subside by morning. But with each episode of symptoms, your vision is damaged a little more. Some people may have severe (acute) symptoms that require immediate medical attention.

It is important to contact your doctor immediately if you have any of these symptoms, or in fact any symptom related to problem in the eyes or vision. Early diagnosis and treatment can prevent further damage to the vision.




Symptoms of Developmental Glaucoma
Developmental glaucoma (also known as congenital glaucoma) affects infants and young children. Recognising the symptoms of this type of glaucoma can be challenging because of the young age of the baby or child.

Some signs and symptoms which your child may display include:

• Big eyes (as the pressure in the eyes causes their expansion).
• Sensitivity to light (photophobia).
• Cloudy appearance of the eyes.
• Watery eyes.
• Jerky movements of the eyes.
• Squint, (an eye condition that causes one of the eyes to turn inwards, outwards or upwards, while the other eye is straight).

As mentioned earlier glaucoma can be dangerous as the patient can lose his or eye sight and therefore it is very important for you to get diagnosed as early as possible, the earlier the better.

Read more articles on Glaucoma.