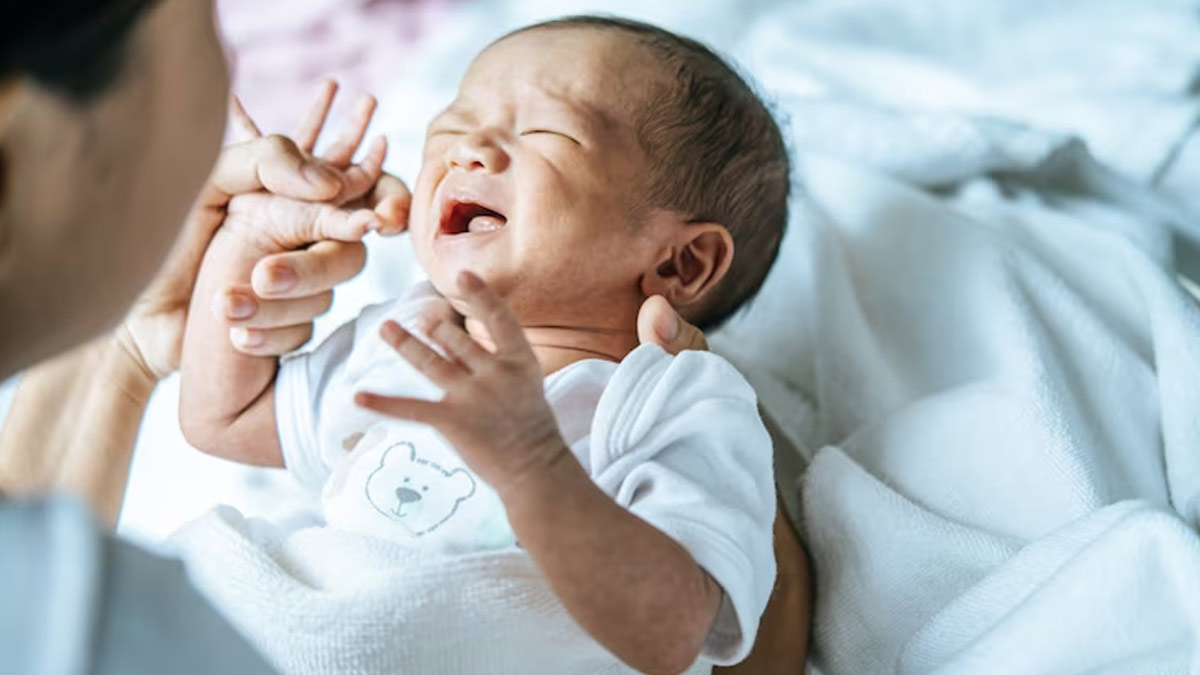 Baby's skin is delicate and constantly developing. The outermost layer of their skin is 30 percent thinner compared to adult skin. This along with a changing pH makes the baby's skin more susceptible to dryness, irritation, rashes, inflammation, and dermatitis. Additionally, baby's skin has less melanin which makes them more vulnerable to sunburn.
Though skin is the largest organ in the body with important functions, skin care in children, especially in newborns and infants, is often not given the due attention that is required. Therefore, The Indian Academy of Pediatrics (IAP) have put in place standardised guidelines consisting of comprehensive evidence-based recommendations to ensure quality paediatric skin care for neonates, infants, and children as well as address prevailing knowledge gaps.
As baby skin is delicate and may show signs of being sensitive, it is imperative to take utmost care of their skincare regime from the start. Correct skin care practices and using doctor-recommended products during this critical period of development can shape the future health of the baby.
To OnlyMyHealth talked to Dr R. Kishore Kumar, Consultant Neonatologist, Founder – Cloudnine Hospitals India and Healthcare Delivery.
Moisturising: A Step Often Missed
As part of a baby's skincare regime, moisturisation plays an important role in improving the skin, as it helps in preventing dryness and in protecting against irritation, and helping growth of good bacteria. Amidst India's extreme seasonal changes with hot summers and harsh cold winters, moisturisation is often overlooked, and sometimes neglected as part of the overall regime.
Also read: Expert Explains The Role Of Nutrients In Preventing Chronic Disease
Here are some common myths around moisturisation which every parent must know
1. The Baby Only Has Dry Skin If They Show Signs Of Dryness
IAP guidelines state that a baby's skin is clinically dry even when it doesn't appear so. Baby's skin constantly loses moisture and hence is prone to dryness. Hence it is imperative to apply a moisturiser even if you don't see obvious signs of dryness.
2. 'If the baby has been massaged with oil, they don't need to be moisturised'
As per the IAP guidelines, oil massage has multiple benefits and it recommends the usage of sunflower oil, coconut oil or mineral oil. While oil massaging provides a host of benefits including improving blood circulation in the baby, the skin benefits depend on the type of oil being used. Also, it is recommended to bathe the baby after oil massage and hence the nourishment may not be retained for long. After the baby bathes, their skin may lose moisture. As part of the correct skincare regime, the infant must be moisturised right after the bath when their skin is still damp to lock in the goodness of the moisturiser and immediately hydrate the skin.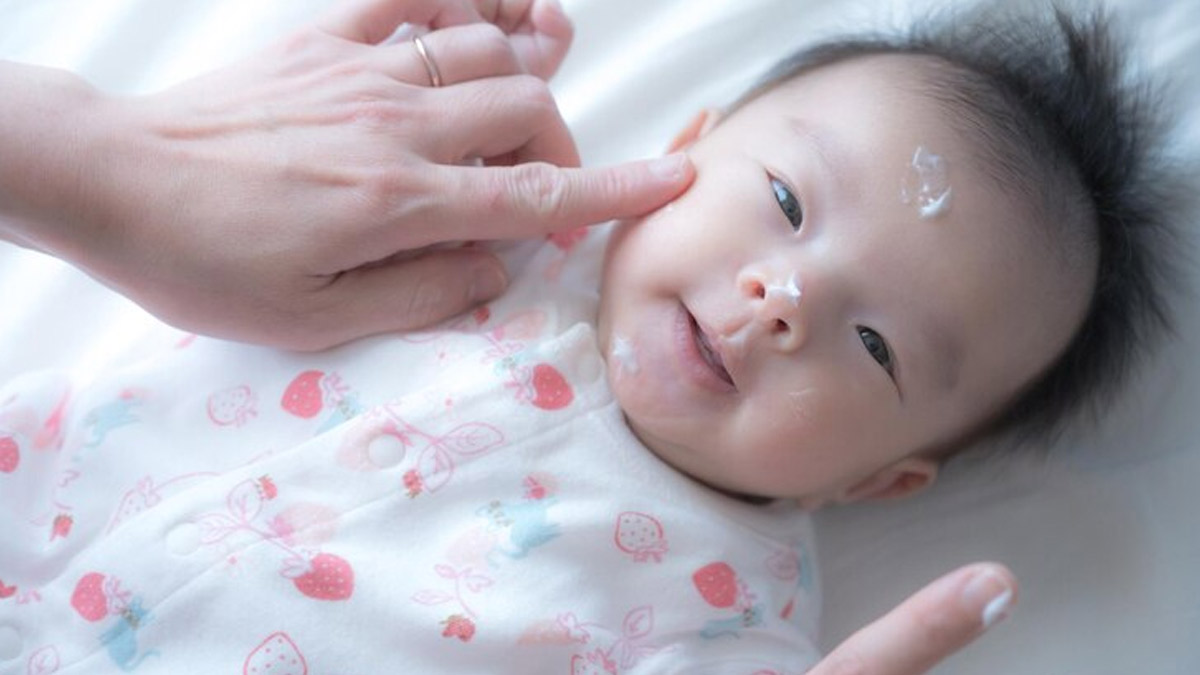 3. 'Olive and mustard oils are great moisturisers'
Often parents adopt traditional practices by using oils to moisturise the baby as they feel it provides long lasting hydration. Contrary to popular cultural notions, IAP guidelines discourage the use of oils especially olive and mustard oil for massages. These oils should not be considered as substitutes for moisturisers for babies. Given the nature of these oils, they may cause irritation, rashes, and allergic reactions.
4. 'Moisturising is required only during winters'
Parents who fall prey to the above myth have often complained that their babies may be more prone to issues such as rashes, acne, itchiness, and allergic reactions. One cannot emphasise the importance of an all-season moisturisation regimen to protect the baby's skin against dryness and other skin issues. Lotions are a non-greasy moisturisation option and are more readily absorbed by the skin. Therefore, they are best suited for use during the summer months. On the other hand, baby creams help impart the skin with a barrier that provides ultra-hydration and are best suited for dry to excessively dry skin and are recommended during cold and harsh winters.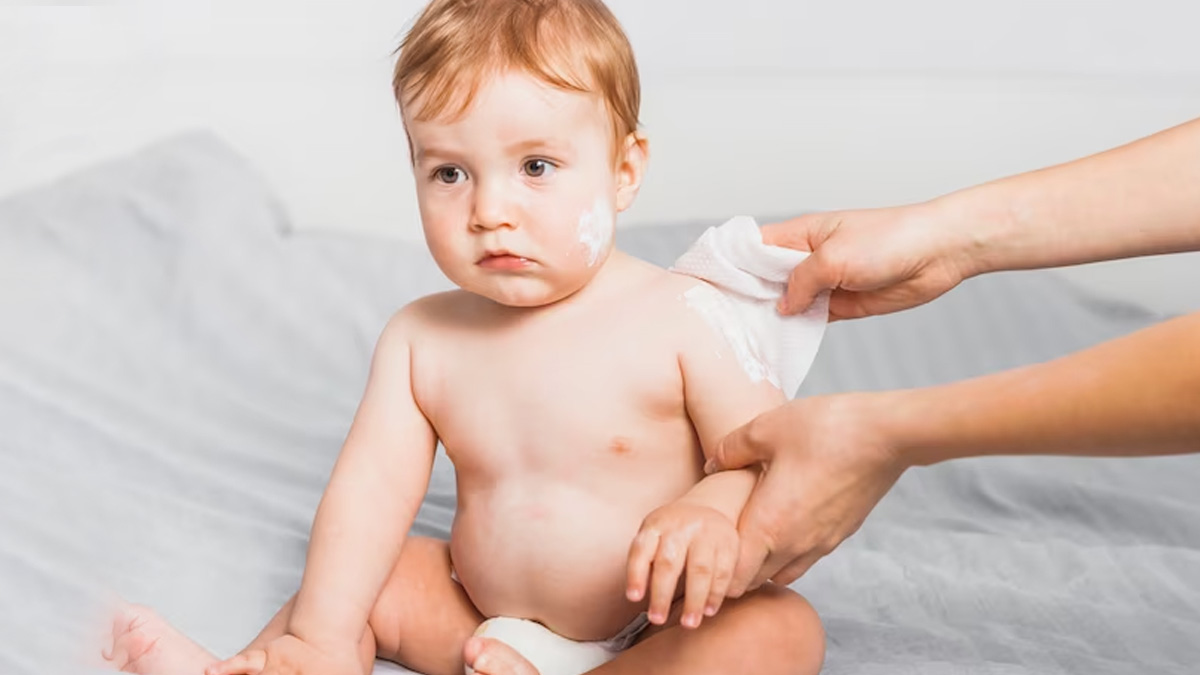 Also read: Herpes: Causes, Symptoms And Can It Recur
Moisturising Options
Parents may lookout for moisturisers which have some of the following ingredients to nourish their little ones-
Humectants like glycerin, hyaluronic acid, and sorbitol are often described as being a "moisture magnet" as they attract water from the underlying layers of the skin to the top layer.
Occlusives agents include waxes (carnauba and beeswax), lanolin, and white petrolatum that prevent water loss from the skin's surface and protect the skin from external irritants. Such ingredients also serves as a physical barrier that plays a role in retaining skin moisture and reducing irritation.
Emollients including lipids and oils, colloidal oatmeal, and shea butter play an essential role in addressing issues pertaining to intense dryness when the skin shows signs of cracking and flaking, leaving open spaces between the skin cells. Such ingredients easily spread on the skin and help increase restoration of skin barrier.
Additionally, moisturisers with natural ingredients like milk proteins, vitamin E, vitamin B5, Aloe, should also be considered to soften skin and strengthen skin's protective barrier.
Above mentioned moisturising options are recommended by our expert, but it is advisable to do a patch test before applying them. Also, seek advice from a paediatrician or a neonatologist to know whether these ingredients are suitable for your baby's delicate skin.