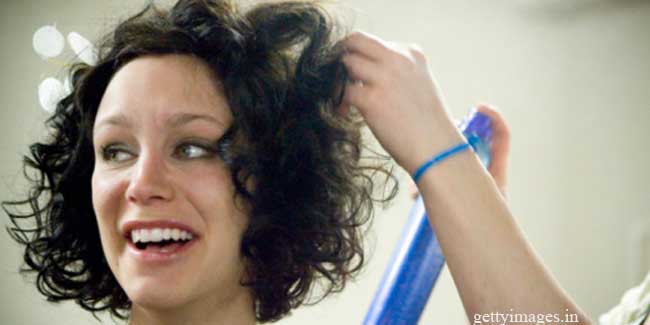 Hair spray is one of the most popular grooming products and is used by women and men to hold hairstyles in place.


Hair spray can be described as fine mists of chemical compounds that are propelled from an aerosol can. They can be applied to either wet or dry hair to help hold it in place in a particular look.

Common ingredients of a hair spray include alcohol and polymers, similar to those found in paint and glue but are flexible and fast-drying. The formulation makes the shafts of hair stick together.

Besides holding your hairstyle in place, there are many things that a hair spray can do and we have dug out the reasons why you should use one.
Finishing hold: The application of this product leaves your hair with a stronger hold which stays all day. The reason hair spray is preferred over hair creams, mousses and gels is the flexible control that's water-free and humidity resistant.
For styling: You can apply the spray as you work with your locks for styling, even when they are wet. Brush the spray through your hair and immediately bring it into the desired position. Because most of the hair sprays dry quickly and your look may be distorted, you may use a little more spray to finish the look and make sure to hold it in place.
Form curls: Spray hair across the surface on pre-dried hair. Use the curling iron to shape your hair. Thereafter, remove iron and spray hair again while the hair cools itself into shape. Doing so will help the curls to hold in shape.
Tame unruly strands: You can tame unruly strands of hair by simply spraying hair spray into your hands and then using it to smooth hair.
For oily hair: You can hide fringes that appear oily by using a hair spray. Pull the freshly washed fringes over a round brush to keep the hair away from the skin and apply a small amount of hair spray.
For more volume: If you want to give your hair more volume, hair spray can help you do so. Hold your head upside down and shake your hair and throw it back again. Apply a little hair spray underneath the strands lifting them. Doing this will lift hair off the scalp and it will appear in the maximum volume.
Why you Shouldn't be Using Hair Spray

Excessive usage of hair spray may leave your hair looking dull after some time. This is why you should be wary of excessive use of hair spray. Try buying a hair spray that has silicone, sodium PCA, vitamin E or panthenol, the ingredients that help retain moisture and shine.

You may develop an allergy such as an itchy scalp or asthma after using a certain hair spray. In that case, you should not use it any further. Even if you are using hair styling products that are safe, it is important to shampoo and condition on a regular basis to keep your hair healthy.
Read more articles on Hair Care.