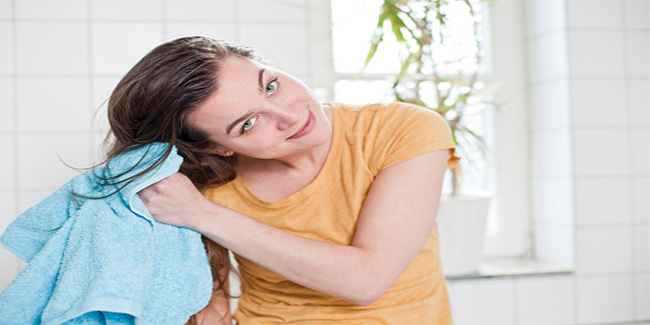 Most of us, if not all have experienced moments as kids when our parents hold us still and vigourously dry our hair with a towel after a shower. We continue this habit throughout our lives without second thoughts about it, but the fact is that using a fabric like terry towel can roughen up your hair cuticles and contribute to frizzy hair and split ends.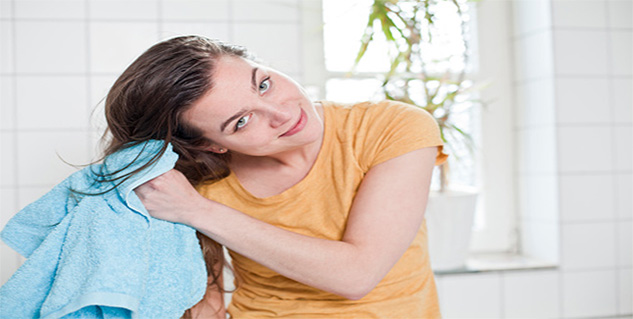 How the hair gets damaged
Wet hair is more vulnerable to damage than dry hair. Being soaked in water makes the hair strand more elastic and hence easier to break. When we rub our hair with the coarse, rough and dry cotton or terry cloth towel, we are pulling hair strands and roughening up the soft cuticle (outer layer of hair) and making our hair frizzy in the process.
The alternative
Replace your towel with a super-absorbent towel or a microfiber towel. A microfiber towel is made from an artificial fiber which is superfine and absorbs water more readily. Use it to absorb water or wrap it around wet hair and then let your hair air-dry. Alternatively, you can use your t-shirt to mop off all the excess water before allowing them to dry naturally.
The best way to dry your hair
As you have probably guessed by now, the best way to let your hair dry is the natural one. Air drying your hair eliminates the chances of any kind of damage or breakage. After a shower, just dab your towel/t-shirt on to your hair and then leave them to dry naturally. However, this might not be the most feasible method on regular days, as there is nothing more irritating than a strand of wet hair on your shirt, wetting it in all the wrong places. That said, it is still the best way, and should be used whenever practical.
Repairing damage caused by towel-drying
So you have been towel drying your hair with great enthusiasm all your life, and now you are worried about the damage. Well, all is not lost and while the hair quality will get better as the new hair grows, you can still repair the damage.

Using a shampoo and conditioner which suits the need of your hair is the key, if you have curly hair, choose the products specially designed for curly hair or if you have coloured hair, it is the best for your hair and the colour, to use products made for coloured hair.

Another key to smoothening your hair out and repairing damaged cuticles is to use a leave-in conditioner after wash.
Image Source: getty
Read more articles on Healthy Hair