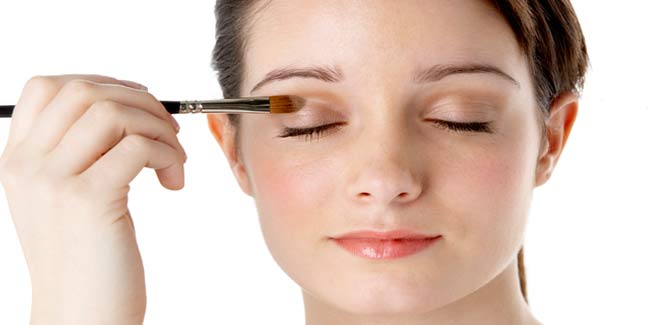 Anybody can get a black eye; and not necessarily due to an altercation. Accidents happen, and a black eye, strangely, can also be a result of an allergic reaction, sinus diseases, or even, sometimes, facial surgery. It is painful and traumatic, but one has to get on with life. And eyes being the focal points of our faces, and the feature that is noticed foremost, it becomes necessary to try and hide a black eye with make up.Not easy though.


A black eye is caused when the eye swells up and becomes discoloured due to trauma. A simple application of foundation or concealer will not camouflage a black eye. In fact it will make the injury look worse. Moreover, if there is an open cut around the eye, concealment by make upshould not be attempted at all.

It is important that the swelling goes down before any makeup is applied. If the injury is painful, try acetaminophen. Aspirin should not be used at all because it prevents blood from clotting, thereby delaying the healing process.

Before applying any make up, you should pack ice around the eye and keep it for 10 to 15 minutes.This should be followed by a warm compress for 5 minutes.

A regular concealer or foundation will not work to cover a black eye, because they will match the wearer's skin. Thickly applied make up will simply look unnatural.What will be effective is the use of corrective concealers which come in hues of yellow and green. Although it might seem very strange to use yellow or green on the face, these colours have been shown to neutralize the bluish red of bruises. A liquid concealer will be easier to apply and blend than the cream variety.

Even though you might use a sponge to apply foundation/concealer/loose powder normally, it's best to use your fingers when you are trying to hide a black eye with corrective concealer.For one it will hurt less, and secondly you will have more control. So dab a little yellow concealer on the bruised area and gently blend in, going outwards, letting some of the material go beyond the affected part. It should have a flat and natural appearance. Let it dry and follow with your normal concealer, the one that matches your skin tone. Let this also dry and continue with your regular make up routine. If your bruise is a brownish yellow colour, which it will be, a few days after you get the black eye, you could apply a light green corrective concealer and use the same technique.

According to Dr. Rodney Basler, MD, dermatologist and assistant professor of internal medicine at the Universityof Nebraska Medical Centre, Omaha, a make up product called Dermablend, available over the counter, is very effective in covering up a black eye. And Las Vegas orthopaedic surgeon Michael Rask, MD, advices eating lots of pineapple and papaya to help heal a black eye faster. According to him, an enzyme present in those fruits does the trick.
Read more articles on Eye make-up