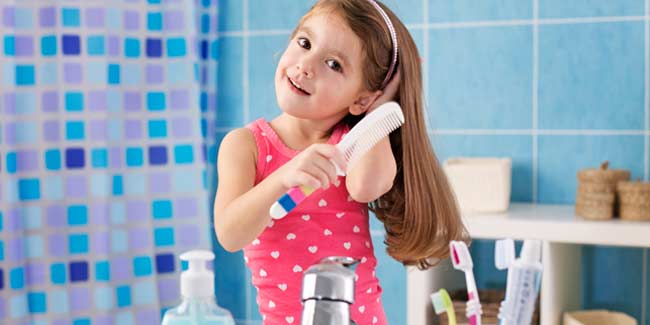 No matter whether your kid's hair is curly or straight, short or long, thick or thin; keeping it neat is important and a kid's hair needs a lot of care, if you want it to look healthy and manageable.
Depending on the hair type and lifestyle of your kid, hair care regime may vary, though; basic hair care for kids remains the same, which includes regular oiling & shampooing, daily grooming and frequent hair-cuts. Keep their hair healthy throughout your life with these easy home tested hair care tips.
Detangling
Dealing with tangles of your child can be a tearful battle for most parents and kids, especially for those with long hair. Encourage your child to comb their own hair after washing, while the hair is still wet to help untangle it. Use a wide-toothed comb, not a brush on hair for your kid as comb promotes shine and minimises hair breakage.
Prefer combing their hair every time you see that it is getting messy. Always use gentle strokes to avoid hair breakage. Following this hair care tip for your kid will help you to avoid developing excessive tangles. Preventing tangles is much easier than getting rid of them.
Keep your Kid's Hair Moisturised
The best method to ensure that your child has the best hair, try applying good hair oil. Kids' hair can get extremely dry, so, to keep them nourished and moisturized you can try this hair care tip. Always add a bit of olive oil or jojoba oil to your kid's shampoos and conditioners. Regular oiling would let your kid have longer and thicker hair.
It is best to stick to water-based moisturisers as these help in keeping hair soft and supple. Use natural oils like coconut oil, argan oil, and shea butter to nourish and lubricate your child's hair before styling.
Use a Mild Shampoo
To wash your child's hair, use a mild shampoo that doesn't sting their eyes. If your kid is old enough to take bath on his or her own then teach him/her to use fingertips rather than fingernails to massage shampoo into scalp. Try to look for a shampoo that is natural and free of chemicals. How frequently your kid will need to wash his or her hair will vary on the hair type as dry hair may need to be shampooed less often than oily hair.
Regular Haircuts
You need to take your child for regular haircuts if you wish to their hair healthy. If your daughter wants to keep long locks, a trim in every six to eight weeks can help guard against split ends.
Hair Accessories
You may let your kid use hair accessories like hair bands, clips and ties to style their hair, but there are many hair accessories that have sharp teeth that can harm the scalp of your kid, damaging hair. These type of accessories need to be avoided. Keeping hair tied back is a good way of keeping tangles to a minimum.


Read more articles on Hair Care.