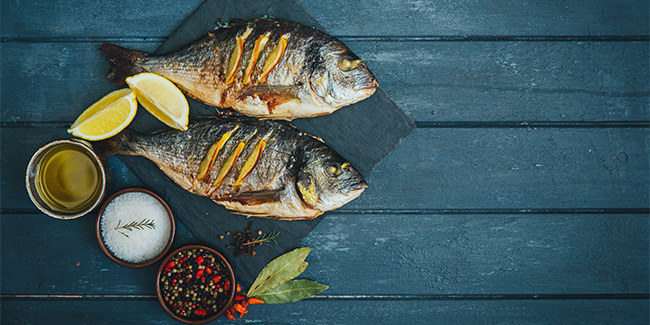 If you're worried about heart disease, eating one to two servings of fish a week could reduce your risk of dying of a heart attack by a third or more.
A diet recommendation you will find going just about at an incensed tempo everywhere is 'Go Fish!' For a glowing skin, go Fish! For relief from asthma in children, go fish! For well working brain and eyes, go fish! To ward off cancer, go fish! And to have a healthy heart, go fish!
There are so many outstanding advantages of eating fatty fish to our health. Don't judge by their unappealing name, fatty fish are the tastiest and healthiest foods from the sea. Oily fish such as salmon, tuna, sardines, mackerel, and trout are full of omega-3 fatty acids- good fats unlike the bad saturated fat you find in most meats.
How does fish help?
Over the years, various studies have proved the benefits of fatty fish. In an important review of studies published in The American Journal of Clinical Nutrition, it was found that getting daily omega-3 fatty acids from fish oil could lower triglyceride levels by 25%-30%.

Triglycerides are a type of fat in the blood stream; and Omega-3 fatty acids present in fish have been shown to lower triglycerides. Omega-3 fatty acids may also slow down the growth of plaques in the arteries and reduce inflammation throughout the body. However, the exact mechanism hasn't been understood well up till now.

Along with decreasing triglycerides, omega-3 fatty acids also reduce blood pressure, blood clotting, boost immunity and improve arthritis symptoms. It is advised to eat one to two servings of fish a week.
The right fish for heart
Salt water fish are the better option when eating for a healthy heart as they contain more amounts of omega-3 fatty acids as compared to most freshwater fish. One can consume salmon, herring, tuna, trout, sardines, and mackerel- as recommended by The American Dietetic Association.
The right amount of fish
The American Heart Association recommends that adults get at least two serving a week. If you have heart disease, they recommend eating one gram of EPA or DHA daily, preferable from fish. Children under age 12 should limit the amount of fish they eat because they're most susceptible to the potential effects of toxins in fish.
Which fish to avoid
Tilapia and catfish contain higher amounts of unhealthy fatty acids, making them a poor choice for a healthy heart. Also, a fish can be unhealthy depending on the how it is prepared. Deep-frying a fish in oil cancels out all its health benefits. A tuna sandwich is a healthy choice- you can make it with whole grain bread, tuna, low-fat mayo or pickle relish.
Another quick and tasty way is to microwave the salmon and other fish. The big advantages- it only takes a few minutes, the fish doesn't dry out, and it is easy enough.
Who shouldn't eat fish
Fish contains mercury, much amount of which can cause toxins to accumulate in your body. This mercury can harm the development of the brain and nervous system on unborn child and young children. But mercury doesn't pose any health concerns for adults.

The Food and Drug Administration (FDA) and the Environmental Protection Agency (EPA) recommend that these groups limit the amount of fish they eat:
Women who are pregnant or trying to become pregnant
Breast-feeding mothers
Children under age 12
However, these groups can eat fish that is low in mercury such as salmon, and limit their intake to:
No more than 12 ounces (340 grams) of fish in total a week
No more than 6 ounces (170 grams) of canned tuna a week
No amount of any fish that's typically high in mercury (shark, swordfish, king mackerel and tilefish)
If you don't eat fish, it is ok. There are some other ways to get omega-3 fatty acids like walnuts, flaxseed, canola oil, and omega-3 enriched eggs.

Also, remember that fatty fish is still fatty. If you over eat these fish, you'll gain weight. So, mind your serving.
Image source : Shutterstock