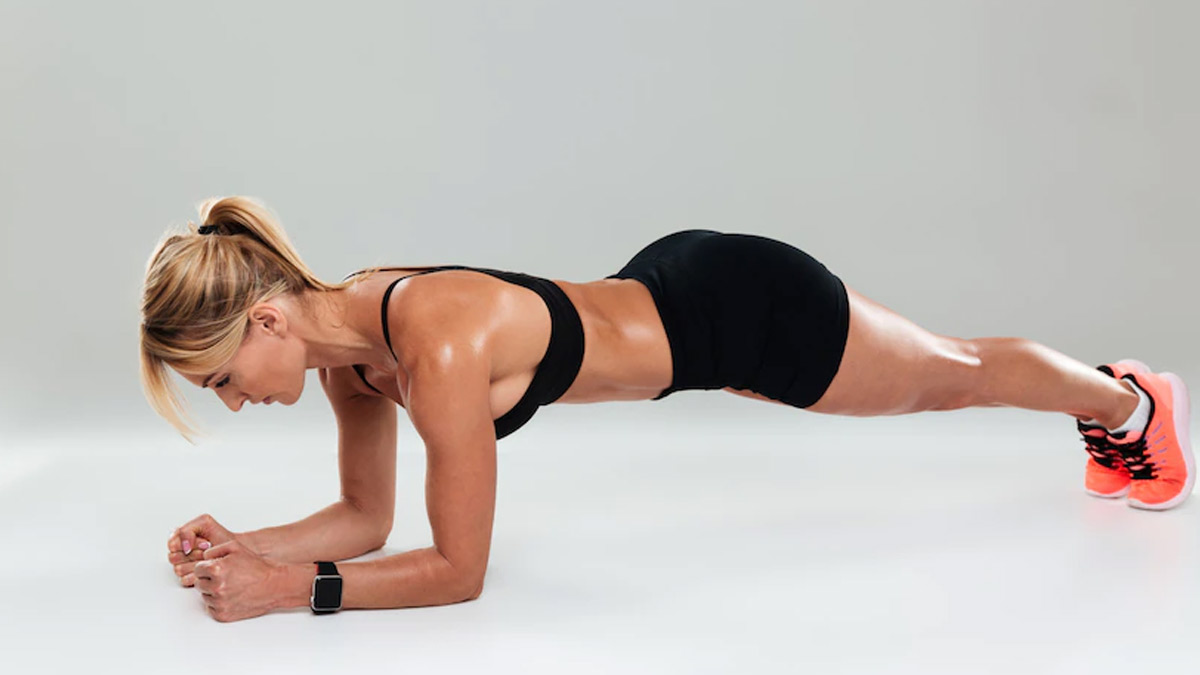 Planking is a simple yet effective exercise that can help in improving overall physical fitness, including strength, flexibility, and balance. A plank is a bodyweight exercise that works the muscles in your core, including the rectus abdominis (abs), obliques, and transverse abdominis, as well as the muscles in your back, shoulders, and glutes.
Why Women Should Plank Everyday
Here are some reasons why women, in particular, may benefit from incorporating daily plank exercises into their fitness routine:
1. Improved core strength
Planking targets the muscles in your core, including the abs, obliques, and lower back. Strong core muscles are important for maintaining good posture, supporting the spine, and performing everyday activities with ease.
2. Increased muscle tone
Planking can help tone and tighten the muscles in your arms, shoulders, chest, and legs. This can lead to a more toned and defined physique.
3. Better balance and stability
Planking requires you to maintain a stable, stationary position, which can help improve your balance and stability. This can be especially beneficial as you age and may experience declining balance and stability.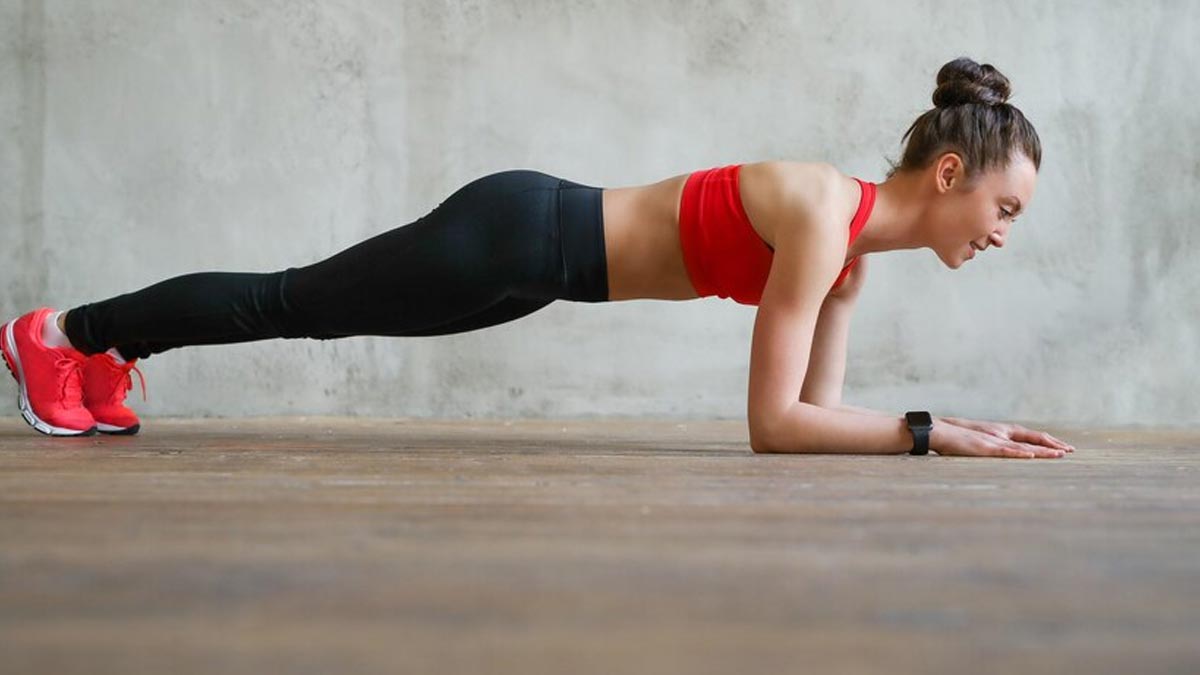 4. Enhanced flexibility
Planking requires you to hold your body in a straight line, which can help improve your flexibility. This can make it easier to perform other exercises and activities that require a greater range of motion.
5. Stress relief
Planking can be a relaxing and meditative exercise, as it requires you to focus on your breath and hold a static position. This can help reduce stress and promote a sense of calm and well-being.
Also read: Zumba: Know About Its Health Benefits
How To Do A Plank?
Start by getting into a plank position. To do this, get down on your hands and knees, and then walk your hands forward until you are in a push-up position with your hands shoulder-width apart and your feet hip-width apart.
Engage your core by pulling your belly button in towards your spine and squeezing your glutes.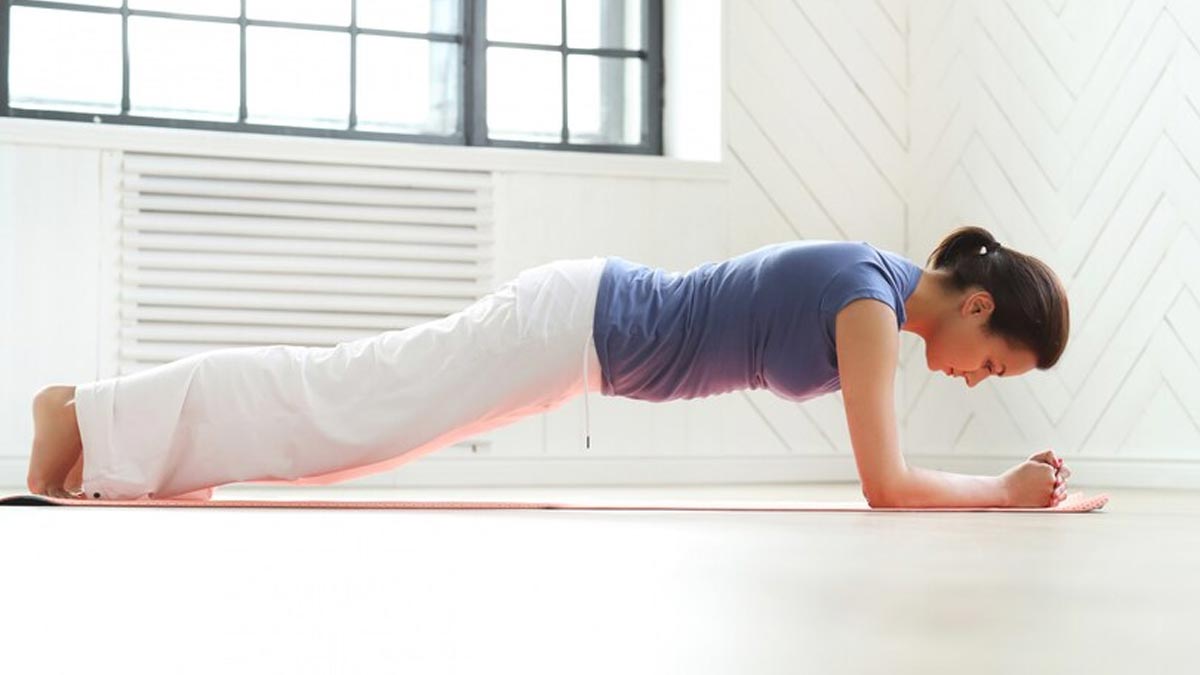 Lift your knees off the ground, so you are balancing on your toes and hands.
Keep your body straight and aligned from your head to your heels. Your head should be in line with your spine, and your shoulders should be directly over your hands.
Hold this position for as long as you can, focusing on keeping your core engaged and your body straight. When you start to feel tired, you can lower your knees to the ground to take a break.
Remember to keep your breathing steady and relaxed as you hold the plank position. It's important to maintain proper form throughout the exercise to avoid straining your back or neck. If you're new to planking, it's okay to start with shorter holds and gradually work your way up to longer holds as you get stronger.
Incorporating daily plank exercises into your fitness routine is a simple and effective way to improve your overall physical fitness and well-being. Start with a few sets of 30-second planks and gradually increase the duration as you become stronger and more comfortable. Remember to maintain proper form and listen to your body, as overdoing it can lead to muscle strain or injury.