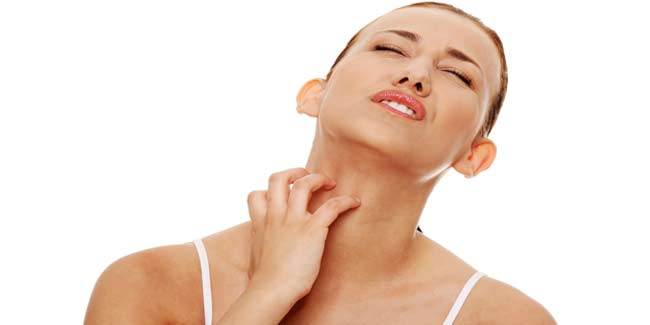 Dryness of skin is a common problem among the people of all age group. This problem gets even worse during winters and results in dry itchy skin. Due to the coldness of the atmosphere, the skin looses its moisture which causes irritation and itch.
The problem of irritation and itchy skin in winter can be overcome by taking the following preventive steps:
You can beat the itch of winter skin by avoiding the use of excessively hot water for bath. Hot water opens the pores of the skin and as a result its moisture is lost, making it dry and itchy.
It is advisable to dry your skin through patting rather than rubbing. Rubbing removes the outer layer of skin cells and as a result you loose the necessary body oil and moisture from the skin resulting in dryness and itchiness.
Use a good moisturizer for your skin. It works best if you apply the moisturizer within three minutes of taking bath. It helps in locking the natural moisture of the body within and also creates a protective layer against the roughness of the atmosphere, thus preventing the occurrence of itchy skin in winter.
Using a humidifier is also a good idea in order to fight against the dryness of the skin that is caused due to harsh atmosphere. It helps in creating a humid atmosphere in the house and will moisturize the skin. You can either install a humidifier in the central air conditioner of the house or use a portable one in your bedroom while sleeping at night.
Avoid wearing heavy synthetic clothes directly on the skin. They result and dry and itchy skin in winter due to friction against the skin. It is advisable to wear a layer of soft cotton clothes directly on the skin in order to prevent friction.
Your hands and feet as they have lower number of oil glands as compared to other parts of the body. Therefore, the roughness of winter affects them adversely. Hence, it is advisable to wear gloves while going outside the house. Also, apply generous amount of moisturizer on the feet before putting on the socks.
Drink plenty of water during winters in order to hydrate your skin from within. Chances of itchiness are less in a well-hydrated skin as compared to dry skin.
Do not forget to apply sun screen lotion while going out as the winter sun is as dangerous as the summer sun. Direct contact with the sun causes dryness of skin, resulting in itchiness.
Increase the intake of green, leafy vegetables, apricots and other foods containing vitamin A as it works as a natural skin hydrator. It prevents dryness and helps to fight against itchy skin in winter.
By keeping the above mentioned points in mind, you can fight against the adverse effects of winters on your skin and have a supple skin even during the coldest months of the year and get rid of itchy skin in winter.
Read more articles on Skin Care