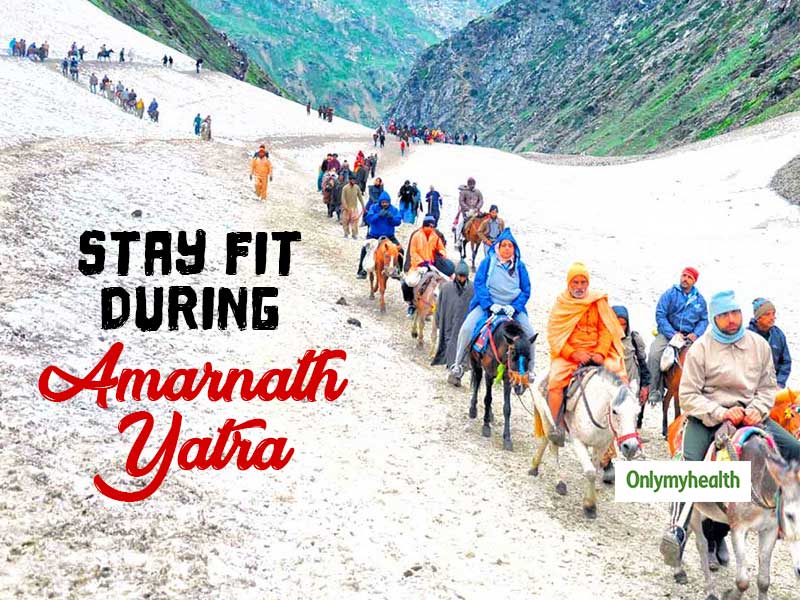 In a recent news update, more than 15 pilgrims were given special assistance after falling short on breath due to high altitudes. Here are some tips for tackling emergency health situations at high altitude areas
Pilgrims are marching towards their final destination in this year's Amarnath Yatra with much enthusiasm. However, in a recent case recorded, around 15 pilgrims were provided oxygen by the Indo-Tibetan Border Police (ITBP) on Baltal Axis. The 46-day pilgrim marches to Amarnath Yatra will conclude on August 15. In high-altitude travels, such cases are common as the body is subjected to limited oxygen levels. When travelling from lower to higher altitudes, it is difficult for the body to adjust to sudden climatic changes leading to episodes of dizziness, breathlessness and even blackouts.
Understanding High-Altitude Sickness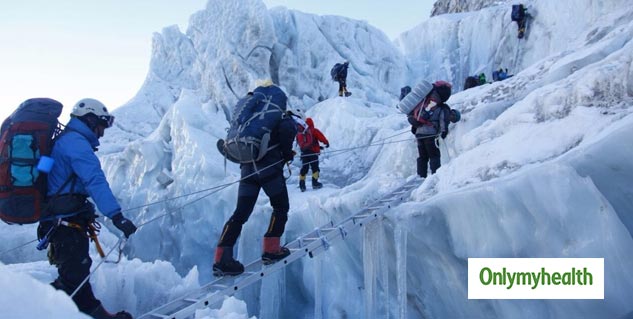 Those of you planning to travel to altitudes higher than 8,000 ft, consult a doctor before heading for your trip. Those going for mountaineering, skiing, climbing and even hiking should take extra precautions to brave through the challenging weather conditions. Following are some of the symptoms of high-altitude illnesses:
Splitting headaches
Dizziness
Episodes of blackouts
Heaviness in body and fatigue
A sudden increase in heart rate
Trouble in sleeping or disturbed sleep patterns
Breathlessness
Pain and tightness in the chest
Excessive coughing and episodes of vomiting
Challenging to walk straight for longer stretches
Bluish or greyish tint on the skin
Also Read: Mumbai Monsoon and Rise in Cases of Vector-Borne Diseases: Know the Nature of These Diseases
All these symptoms require medical help and should be reported to a doctor at the earliest. Also, it is advisable to carry an oxygen cylinder for trekkers and mountaineers scaling higher altitudes. It is best to stop, take some rest and then start moving while encountering such symptoms.
Reasons for High-Altitude Sickness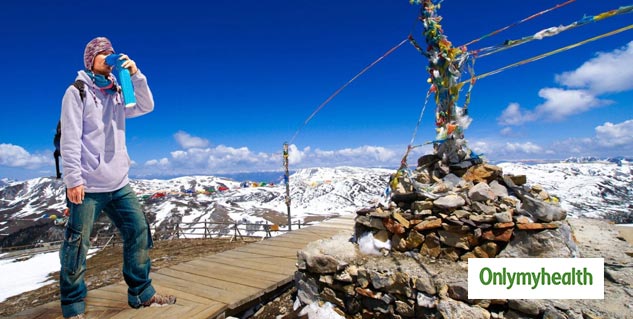 Wondering what causes these symptoms? Limited oxygen supply to the body leads to various reactions in the body. The higher you go, the lesser the oxygen levels are. These illnesses can be classified into three types:
Acute Sickness: Often mild and short term, this is the most common type of high-altitude sickness
High-Altitudepulmonary Edema (HAPE): This condition causes lungs to swell with fluids in it. This can be a fatal health concern, as well.
High-altitude cerebral edema (HACE): This condition leads to swelling in the brain due to fluid accumulation. It is common in extremely high-altitudes
Also Read: Mental Wellness: The Key To Employee Health
High-altitude places put you at a higher risk of:
Sunburns: The higher you go, your skin is in contact with sun, leading to sunburns of higher degrees. Sun is a lot harsher in the mountains than low-lying areas. At places like these, it is best to apply sunscreens
Dehydration: Lower oxygen levels in the mountains increase chances of dehydration. Keep having fluids while at high-altitude places to avoid headaches.
Hypothermia: The higher you go, the colder it becomes. Avoid contact with cold water as it may lead to hypothermia. In case of rains, immediately change into dry clothes.
Managing High-Altitude Sickness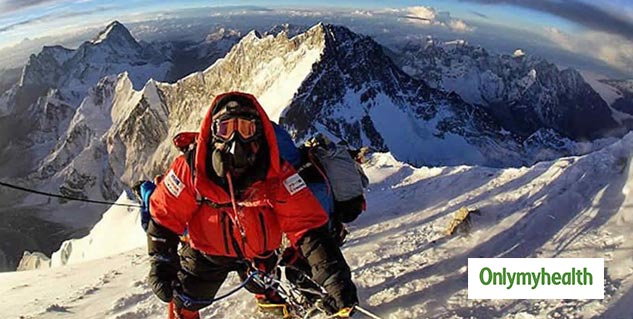 The most crucial factor here is to give your body sometime before moving to higher altitudes. Take adequate rests and then move ahead. The sudden contact with low pressure in the atmosphere can also be fatal for many. Following are important factors to keep in mind while travelling to higher-altitudes:
Keep chewing a piece of gum while walking to higher altitudes
Take immediate treatment and keep a check on your blood pressures levels while travelling to higher elevations
Keep yourself hydrated and take adequate liquids. Take rest whenever feeling dizzy
Avoid consuming alcohol at such times
Eat proper meals; do not think of dieting as adequate nutrition is required to brave higher altitudes
Read more articles on Health Diseases