Keloid or Keloid scar of skin is formed over a wound when the scar tissue grows excessively. It appears as a rubbery, smooth lesion on the site of the injury, and is formed over healed skin. Keloid is not contagious or harmful for the person in any ways but sometimes it can be accompanied by severe itching and if large enough, might even restrict movement for the patient. Most patients who opt for removal of the scar do so because of cosmetic reasons, however there is a risk of the surgery scar also transforming into a keloid scar.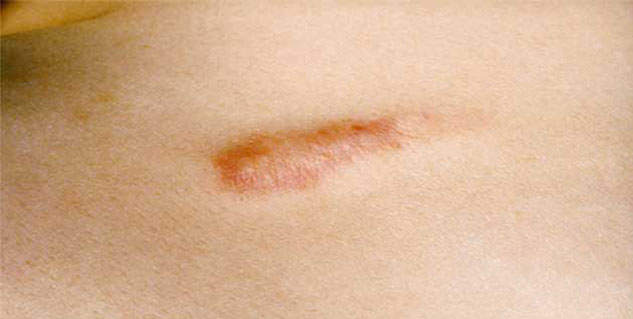 Keloid symptoms you should be aware of
Keloids are usually raised above the surface of the skin and are shiny in appearance. The colour of the tissue may vary from pink to dark brown, depending on the person's skin colour.
Keloid scars are distinguished mainly by the fact that they grow way over the boundaries of the original site of injury and can be much bigger than the wound itself.
Some keloid scars of skin can show symptoms like severe itching, tenderness and even pain.
The most common places where a person can develop keloid scars are chest, back, shoulders and earlobes.
What causes keloid?
Keloids can be caused due to any wound or injury which can result in a scar tissue, including acne, burns, piercings, vaccination sites and chickenpox scars. However, some people are genetically predisposed to keloid formation, which means that if your parents have keloid scars on their skins, it is probable that you would form a keloid over scar tissue.
People with higher concentrations of melanin, or darkly pigmented skin are also more prone to keloid formation than their lighter counterparts.
Treatment for keloid
The best treatment for such scars is prevention. It is best to avoid unnecessary surgeries, piercings or tattoos if you are predisposed to develop keloid scars. Keloid treatment is tricky as the scar tissue usually grows back again and sometimes it is larger than it originally was. Some treatment options are -
Steroid injections in order to reduce the inflammation
Radiation therapy to reduce the size of the scar
Silicone gel pads
Laser treatment to remove the scar tissue

If the person suffering from keloid formation is a child, then it is best to avoid treatments like steroid injection and radiation therapy as both can inhibit proper growth in children.
Image Source: Getty
Read more articles on Keloids