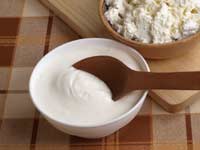 New research shows how yoghurt can lower chances of high blood pressure. Read to know more!
A new research has shown that adding yoghurt to your diet will help lower the risk of high blood pressure.

The study presented at the American Heart Association's Research 2012 Scientific Sessions found that those who were eating yogurt for a long time were found to be less likely to develop high blood pressure. Also they had lower systolic blood pressure compared to those people who didn't eat yoghurt. Systolic blood pressure is the top number in the blood pressure reading and measures the force of the blood against the walls of the arteries when the heart's beating.

This 15 year study involved around 2000 participants who did not have blood pressure at the beginning of this study. Then in 15 years time the participants filled out the questionnaires so as to measure their yoghurt intake. The result showed 31 percent of volunteers as less likely to develop high blood pressure and at least 2 percent of their daily caloric intake was yoghurt.
[Read: How to Reduce Blood Pressure with Potatoes]
So grab some yogurt now!
Read more articles on Health News