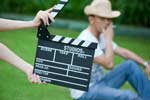 A new study suggested that tobacco-less screen time could be a contributing factor for low consumption rates.
TV and its actors have often been blamed for glamorizing smoking. And now a new study has justified the blames by suggesting that tobacco-less screen time could be a contributing factor for low consumption rates.


Since the 1964 Surgeon General's report on smoking's health risks and the 1970 Public Health Cigarette Smoking Act banned cigarette advesrtising on television, people are less likely ,to see the it in films and TV.

The dwindling visibility of tobacco products in prime time US TV drama programs may be linked to a fall in smoking prevalence of up to two packs of cigarettes per adult a year- the research published online in the journal Tabacco Control suggested.

The authors believe that this impact may be half of that wielded by pricing. Researchers analyzed 1,838 hours of primetime dramas on broadcast TV -- cable was excluded -- that aired from 1955-2010 and determined that, at its peak in 1961, there were 4.96 instances of tobacco use per hour of programming. In 2010, that had dropped to just 0.29 instances per hour.

After taking account of changes in cigarette prices and other influential factors, the authors calculated that one less tobacco event per episode hour across two years of programming significantly predicted an annual fall of nearly two packs of cigarettes (38.5 cigarettes) for every US adult.

When researchers compared rates of smoking on the small screen to that of the American population during the same period, they found a corresponding decline. In 1964, about 50% of Americans were smokers, compared to about 20% now. After normalizing for changes in cigarette prices and other influencing factors, results showed that one fewer tobacco scene per hour on TV over two years of programming could predict a fall of two packs of cigarettes per adult per year. The impact, the researchers say, is about half that of raising tobacco prices.

"TV characters who smoke are likely to trigger the urge to smoke in cigarette users, making it harder for them to quit," said Patrick E. Jamieson, the study's lead author, in a release.

"We now have further evidence that screen-based media are an important factor to consider in continued efforts to reduce the burden of smoking related illness in the U.S. and around the world," said Dan Romer, the study co-author and APPC associate director.

"We've been telling people for years that smoking is bad for their health, and it hasn't been working because it's so powerful an addiction, and on-screen portrayals of tobacco use is a powerful incentive to smoke," Romer said.

"Hollywood can take credit for reducing smoking," Romer said. "On the other hand, it may have contributed to smoking by its portrayal on cable TV ... but we did not include that in our research."

Source: Los Angeles Times
Image Source: Getty Images


Read more Health News.