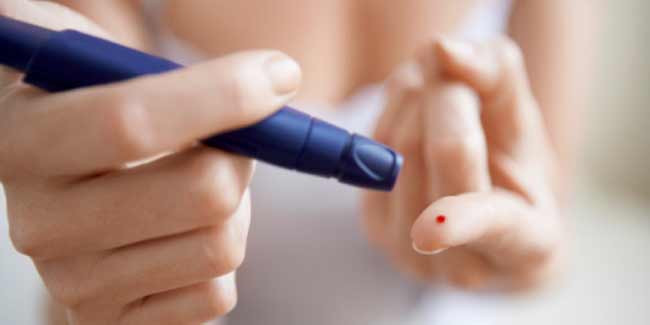 Diabetic if they sweat, especially while eating food should be wary because it is a sign of advanced diabetes. Breeze through the reasons for sweating that have been embarrassing you.
Excessive sweating is a common concern of diabetics, especially the patients of hypoglycaemia (low blood sugar). According to American Diabetes Association, diabetics have several bouts of excessive sweating no matter how well you are managing your diabetes. Excessive sweating is more common in diabetics who are overweight.
Cause of Excessive Sweating in Diabetics
Nerve Damage – The progression of diabetes over time can damage the autonomic nervous system. It is quite rare but it may impact heart rate, blood pressure, perspiration and digestion. Owing to this, diabetes is often regarded as the causes for autonomic neuropathy. In most cases, nerve damage causes pain while in other cases the body functions get interrupted.
Fluctuations in Blood Sugar Levels – Despite administration of diabetes, a patient could have blood sugar fluctuations from high to low and low to high.
Disorder Treatments –The conditions such as hypoglycaemia should be treated as soon as identified. Any delay in treatment for medical conditions such as nerve damage could make blood glucose levels go out of control. Treatments for hypoglycaemia or autonomic neuropathy may result in complications such as excessive sweating.
When to Seek Help for Excessive Sweating
Frequent Night Sweats – When you are having have trouble sleeping due to cold sweat in night too often.
Generalized sweating – When sweating does not confine to head, face, underarms and groin, but wholethe body.
Asymmetrical sweating – Unusual sweating such as sweating in one armpit is another indication which indicates the need to seek help.
Change in sweating pattern – Sudden sweating or infrequent sweating, which may be due to some specific food.
Treatment for Excessive Sweating
Antiperspirants – Available in the form of over-the-counter or prescription sprays and lotions, antiperspirants can help control excessive sweating symptoms.
Iontophoresis – Low-level electrical impulses decrease or disable the sweat glands temporarily.
Botox Injections – An acknowledged method for treating excessive underarm sweating, the injections prevent the nerves from triggering excessive sweating.
Surgical Operation – Nerve in the chest or sweat glands that triggers excessive sweating is removed through a surgical procedure.

In most cases, excessive sweating is harmless. If the condition of excessive sweating is adding on to your worries, you should better see a doctor for medical tests. Excessive sweating is often ignored, but it should be checked and treated before it gets worse.

Image source: Getty Images
Read more articles on Diabetes.