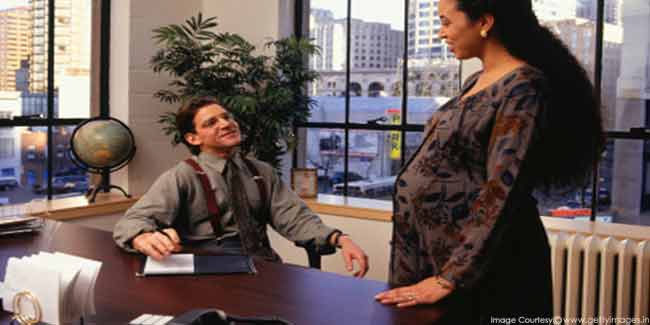 The duration of maternity leave may vary from company to company. You must consider your association with a company, relationship with your boss and pergnancy policies when applying for maternity leave.
Applying for maternity leave must be an even-handed decision for working women. They must strike a balance between their work and health concerns of them and their baby. It can be difficult to break the news to your boss if you are unsure about the right time to ask for maternity leave.

If you are bothered about asking your boss for maternity leave, here are a few tips given below can help you in doing it the right way.
Anticipate the reaction of your boss
Talking to other women in your office who have taken maternity leave will give you a good understanding of how your boss is going to take this news. You should know the questions and concerns that he will pose to you with regards to the effect on work during pregnancy. Be prepared with good answers to those.
Company's policies



Read the manual of your company's policies for its employees. Have a word with your human resource manager so that you know all about it. Besides, acquaint yourself with the maternity laws pertaining to service conditions in your country.
Do not be late in informing
After it has been well-established that you are pregnant, it is important that you break the news to your boss and colleagues soon. It would be considered irresponsible on your part if you did not inform and pregnancy started to show up. You need to give time your boss and colleagues to adjust to the idea of your absence and negotiate the time duration and type of your leave.
Ask your co-workers
Ask other women of your company to give you some advice on maternity leave application. You can get strategic counseling on how to deal with the situation.
Your options of resuming work
Consider the options you have when the time comes to start working again. Would you like to start part-time at first, work from home or request for suitable working hours or reduced working hours.
Manage your leaves
You need to work out the sick, casual and maternity leaves and present the plan to your boss. Tell him about your intentions of managing the leaves.
Generally, you are entitled to get 12 weeks paid maternity leave in most organisations. All depends on how you intend to use your leaves on the basis of your condition during pregnancy.
Read more articles on Pregnancy and Work.