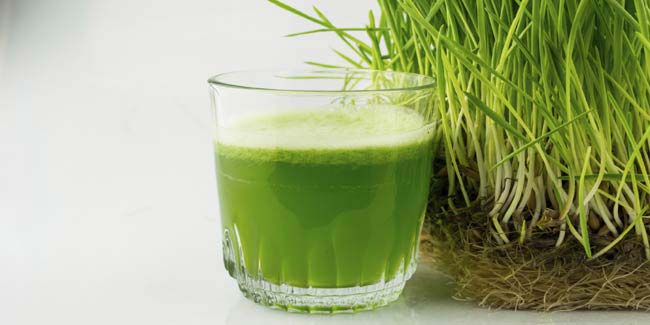 Although conventional medicine does not accept wheatgrass as a cure for diabetes, it is considered as herb that can bring down blood glucose level.
The ancient medicine system of Ayurveda and Chinese medicine system has always included wheatgrass. There has to be something beneficial about wheatgrass to have been in these ancient medicinal practices Let us find out how it helps diabetics.
Wheatgrass has always been renowned as a body cleanser. It works as a detoxifier and also provides the body with necessary nutrients. It cleansing effect is particularly experienced in the liver and the colon. Some people claim that wheatgrass can even cure diabetes and that the belief in the untreatable status of the disease is false.
As far as conventional medicine is concerned, it take cognizance of the fact that wheatgrass is rich in vitamins, A, C, E, K and B complex, and has many vital nutrients such as iron, calcium, magnesium, selenium, amino-acids and chlorophyll. That is why it has always been used in traditional medicine across many cultures. It has always been proposed for improving the body's immunity, antibacterial activity and detoxification of the colon.
Research on Benefits of Wheatgrass for Diabetes Treatment



Michael M. Murray has been at the forefront of research on curative properties of wheatgrass. Although they do not say that the herb can effectively cure the disease, its beneficial effect on improving glucose and lipid levels cannot be ignored. Glycemic index (GI) of 30 volunteers was studied after adding wheatgrass in one of their meals. GI is the measure of how prone the foods are in increasing the blood sugar level.


It was found the GI of certain foods came down significantly after wheat grass was added to it. This helped to improve the blood glucose levels in them. Not only that, some fats such as triglycerides also improved in patients after consuming wheatgrass. Although larger studies are needed to prove the effectiveness of these studies, it is still good news for diabetics.

Optimum Health Institute in Lemon Grove, California has shown excellent results in curing diabetes with the help of a raw vegan diet and regular dosage of wheat grass. A raw vegan food programmes has the distinct advantage of getting rid of the burden on the pancreas for digesting cooked food. As the pancreas need to produce more digestive enzymes for digesting cooked food, other than insulin, going on a completely raw vegan diet programme relieves it of this burden.

Apart from the vegan food, wheatgrass is essential to the treatment of diabetes in the institute. This is based on detoxification of the colon and liver, for which wheatgrass is ideal. A complete liver detoxification programme is needed to completely cleanse the liver of all its toxins, as it has been found that diabetes is always linked to liver toxicity.

Precautions when Using Wheatgrass
One must be careful when using wheatgrass as it can have adverse reactions and could cause nausea and headaches. Also for those who are prone to grass allergies or celiac disease could have allergic reactions from consuming it. It is very important that you consult a doctor in case you have diabetes before including wheatgrass in your diet.

The most important thing to remember is that wheatgrass is not a replacement for your diabetes medications that you are taking. It is merely a supplement to improve your diabetes.
Image Source: Getty
Read more articles on Home Remedies.