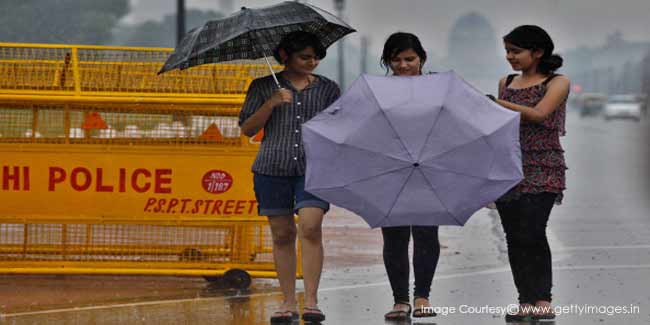 With the gloomy June almost coming to an end, we have compiled a few fashion tips to boast off with style on a rainy day. It sure is very difficult to choose the right outfit to wear on a rainy day because there are just too many things to consider ranging from the type of material to wear to ways of staying dry without compromising on style. The good news is that it is easier to dress on a rainy day than what it seems like.
Add Colour

The best thing you can do to make a bad weather day bright is by wearing bright colours. Do not hesitate to wear them because the bad weather is anyway going to compensate for the bright and full-of-life colours of your dress. You may sport a plain white t-shirt with a bright blue or green coloured scarf and blue shorts.
Umbrella'ise'

Accessorise your outfit with a cute umbrella. The market today has a wide variety of umbrellas available in different colours, shapes and patterns that there really is no excuse to buying a basic black. If you live in a wet and cool place, buy different kinds of umbrellas to add colour to your look. Remember to not spend a lot of umbrellas. You may buy a plain black umbrella with colourful bubbles all over it and sport it with a plain black dress layered under a bright coloured jacket.
Sport a Classy Trench Coat

A trench coat has always been a head turner and perfect for monsoon. If monsoon has already hit where you live, you should be able grab one at a cheap price. For those, who are awaiting monsoon, you will probably have to wait until rain showers to catch hold of a trench coat at cheap price. A trench coat should strictly be a part of your wardrobe during monsoon for the fact that it is classy and comfortable.
Know the Material

Do not take hold of something for monsoon, especially shoes, without knowing what material it is made of. Avoid picking suede and leather that is not treated with a protectant as these are off-limits in rain and can easily be damaged with water. Go for rubber, protectant-treated leather shoes and pleather. You may sport gray coloured rain boots or gumboots and pair them with a bubble umbrella black top under a blue poncho and black tights.
Read more articles on Fashion and Style.