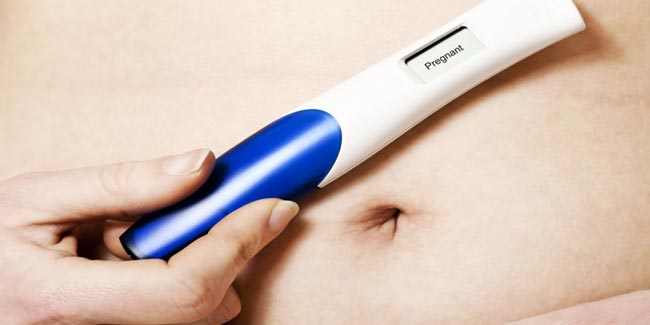 After testing positive for pregnancy, you need to start taking care of yourself to balance out the changes taking place in your body and allowing growth of the coming baby.
A woman holding pregnancy test kid against her belly A positive pregnancy test allows a woman to ensure that she gets the very essential prenatal care that she requires for a healthy being of herself and her baby.
After you have been tested positive for pregnancy, there are a lot of things that you must do from making the nursery to stocking up diapers, but before you go ahead with these:
Inform your spouse, close friends and family members about the test results. Some doctors are of the opinion that the news should be let out only after 12 to 13 weeks of pregnancy, when you are past the stage of highest risk of miscarriage. The problem with that is you might feel very sick in those first 12 or so weeks. You need to arrange for the people who will take care of you in this condition.
Start taking more care of yourself such as by quitting consumption of tobacco, alcohol and other harmful drugs. Substance abuse leads to low birth weight, premature births, mental and physical deformity in the baby and other problems.
If you have not confirmed your pregnancy with a doctor but only tested positive with a home pregnancy test, get it done immediately. Follow your doctor's recommendations and advice to ensure proper care for your baby.
You need to start eating healthy. Your diet should be based on what is nutritious for you and your baby. Fresh fruits, whole grains and lean proteins are very important for your needs and that of the baby's growth.
Start a schedule of regular mild exercise. It could be something very simple like walking or swimming.
Take a lot of rest. All mothers have experienced sleepless nights with the crying baby in their laps. It will surely happen. Take as much rest with lots of sleep now to make up for the coming sleep deprived months. Sleep deprivation begins during the later stages of pregnancy. Sleep as much as possible to rest and prepare your body for what is coming.
Your doctor would most likely give you prenatal vitamins that ensure the health of your baby. Take them without fail.
You can look forward to exciting times of pregnancy ahead but that will happen only if you take proper care. You may consult with your doctor or read up on what to expect in the coming days. Morning sickness with nausea is common in early part of pregnancy. Your diet should include all the nutrients required for your baby's growth including some anti-nausea food (on the recommendation of your doctor).
Read more articles on Pregnancy Test.