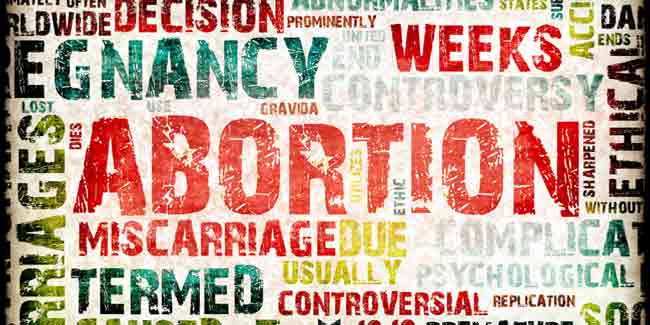 Abortion is medically known as the termination of a pregnancy at any stage during the period of gestation. The procedure of an abortion depends on several factors such as:

The time that has elapsed during the pregnancy.
The reason behind the abortion. They can be both medical and personal.
The medical history of the pregnant which includes drug resistance and allergic reactions.
Procedures for an abortion
Medical abortion for first and second trimester of pregnancy
This is the most preferred procedure of abortion in case the woman is in her first or second trimester of pregnancy.
In medical abortion, medicines such as misoprostol, a combination of methotrexate and misoprostol (up till 7 seven weeks of pregnancy), or mifeprex RU-486 (up to nine weeks of pregnancy) is used to abort the unborn foetus.
Other medical abortion procedures for second trimester
Saline induced abortion procedure has been preferred for many years for terminating a pregnancy that has entered its second trimester. Although the use of this procedure has dwindled in the recent past, experts consider it to be safe.
Another abortion procedure that can be implemented during the second trimester of pregnancy is prostaglandin induced in nature. In this procedure the medicine is injected into the foetus directly, through the vagina or even orally.
Surgical abortion procedure for first trimester
A surgical abortion for terminating a pregnancy that is in the first trimester is relatively easy and can take place within minutes.
A surgical abortion procedure involves the insertion of a handheld syringe after the cervix has been dilated. This method is also known as the manual aspiration method of abortion.
When instead of a syringe a cannula or tube that is connected to a suction machine is inserted, then it is termed vacuum aspiration.
The final procedure that is used to abort a foetus in the first trimester of pregnancy is dilation and curettage.
In this abortion procedure, the cervix is first dilated and then a sharp metal curette is inserted to get the foetus out.
This procedure is however, ill-advised as the sharp metal curette can potentially harm the patient.
Surgical abortion procedure for Second Trimester
Dilation and evacuation is the most commonly adopted procedure of abortion in the second trimester.
In this process, the cervix is first properly dilated. It may take even a day to sufficiently enlarge the cervix.
After the process of dilation is over, suction curettage and manual evacuation is used to remove the foetus and the placenta.
This procedure is relatively more painful and local anaesthesia is administered to patients.
Some doctors also resort to the induction of labour abortion procedure in order to terminate a pregnancy. This method of abortion is undertaken in cases where premature rupture of membranes may have taken place.
Read more articles on Abortion.