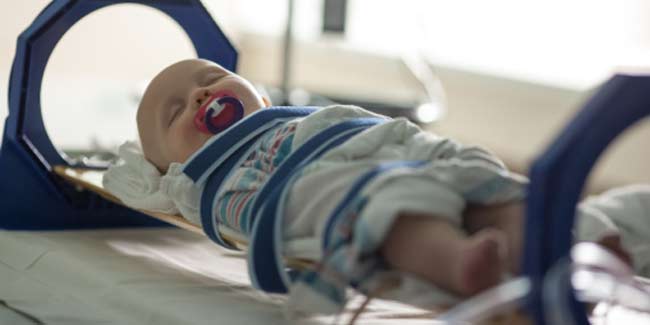 Ohtahara syndrome is a neurological disorder characterized by seizures. The disorder affects newborns, usually within the first three months of life in the form of epileptic seizures.
Ohtahara syndrome refers to a neurological disorder in which the patient experiences seizures. It affects newborns within the first three months of life and often within the first 10 days of being born. It first manifests in the form of epileptic seizures. Infants tend to usually have tonic seizures, though they may also experience partial seizures that are rarely turn to myoclonic seizures.

Ohtahara syndrome is most commonly caused by a structural damage in the brain or by metabolic disorders, though the cause/s may not be determined. Most infants suffering from this disorder tend to express a significant amount of underdevelopment of part or all of the cerebral hemispheres.
EEGs of infants suffering from the syndrome show a certain characteristic pattern of high voltage spike wave discharge that is followed by little activity. This pattern has been referred to as the burst suppression. This condition usually affects boys more than girls.

The National Institute of Neurological Disorders and Stroke conducts as well as supports extensive research program on the seizures and seizure-related disorders. A lot of the research on the subject is aimed at increasing scientific understand of the disorders and finding different ways to prevent, treat as well as cure them.
Read more articles on Ohtahara Syndrome.