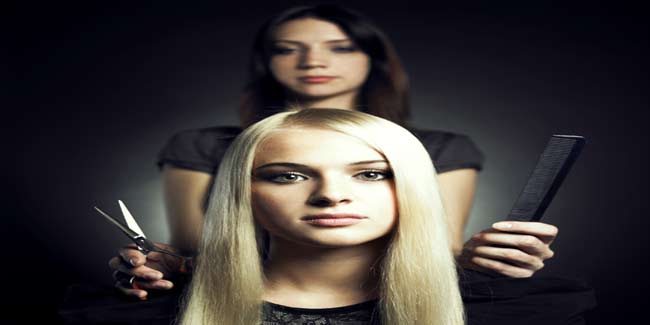 Is Hair Rebonding Harmful? - Hair Rebonding is a process that is being tried by most stylish women of today who wish to make their strands more manageable. Read More.
Hair rebonding is a process that is being tried by most stylish women of today who wish to make their strands more manageable. It is basically a chemical process that is quite akin to the procedure of hair straightening. All hair strands are provided with a natural bond, irrespective of whether they are straight, curly or wavy. During the rebonding process, the hair is exposed to certain chemicals in the form of softeners and relaxants. These help in breaking the natural bond of hair. Subsequently, a neutralizer is applied for restructuring the bond. Hence, wavy and curly locks would eventually become straight. Hair rebonding is a permanent process that requires frequent touchups.

Is Hair Rebonding Harmful?

Owing to the fact that hair rebonding would expose your hair to chemical substances, some amount of associated damage is unavoidable. However, considering that hair rebonding may be the need of the modern generation, some extremely simple measures can be resorted to for countering the harmful aftereffects. These include:
Consider steaming and oiling your hair and a hot oil treatment once every fortnight.
There are specific shampoos available for rebonded and straightened hair. Make sure you stick to using them alone instead of using generalized over the counter products.
Usage of hair serum is also considered a must for hair rebonding.
Use natural packs like those made from aloe vera, eggs, yogurt, olive oil and so on. These would help in neutralizing the ill effects associated with the usage of hair styling products.
Include leafy greens, milk and milk products, nuts and minerals in your diet for promoting effective hair repair.
Refrain from blow drying your hair in order to avoid dryness.
Consider oiling your hair on a daily basis.
Refrain from manipulating your strands too much within the first month of the bonding exercise. Ask your doctor for tying instructions for minimizing hair loss around this time.

Considering that hair rebonding would permanently alter the texture of your hair, common disadvantages would include brittleness of hair, burning and scalding of the scalp during the course of the procedure. Besides, maintaining a rebonded look would require frequent touch ups and continual grooming exercises that may prove to be costly. Therefore, it would be essential to come to terms with the basic facts associated with hair rebonding before taking the plunge. A safe approach could minimize damage considerably.