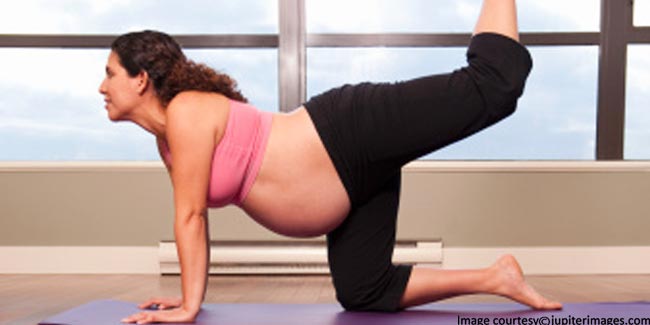 Shedding those extra kilos piled on during pregnancy might become very difficult for some women. Therefore, one should remain fit and active during pregnancy. However, proper caution must be exercised because some fitness related activities can actually cause more harm than benefits. There are certain exercises that need to be absolutely avoided during pregnancy in order to diminish the risk of injury or any sudden misfortune such as a miscarriage.
Exercises to avoid during pregnancy:
Contact sports
Any kind of contact sport such as softball, football, hockey and cricket, is a strict no-no during pregnancy. These exercises will make your abdomen area vulnerable to injury from the ball or the hitting equipment such as a cricket bat. Any injury to your abdomen during pregnancy is a potential danger to both mother and the baby.
Exercise that might lead to a fall



Certain exercise routines such as horseback riding, gymnastics, waterskiing, skating and bicycling put you at the risk of falling. You should avoid these exercises during pregnancy as a fall can be detrimental to the pregnancy and the growth of your baby. Also the centre of gravity of a woman shifts during pregnancy making these exercises even more dangerous because of the increased risk of falling.
Overheating Exercises



Overheating of the body during pregnancy is a serious threat to the development of your baby. Therefore, you should avoid any exercise that leads to overheating. Running is one of them. You can run during pregnancy if you have prior experience in it. However, the amount that you run should be gradually decreased with the progress of your pregnancy.
Stretching Exercises



Sit ups, twisting the waist while standing, deep knee bends, touching toes while standing are some exercises that lead to stretching of the abdomen. Avoid these exercises during pregnancy as any stress on the abdominal area may lead to an injury.
Any exercise with jarring motion



Any exercise that has sudden stops and movements and needs abdominal strech should be avoided during pregnancy. Tennis is one such sport. Apart from an increased risk of falling, a game of tennis also involves sudden bending, running, hopping and jumping. These activities can jolt the stomach and that can lead to an injury.


Other activities that need to be avoided during pregnancy
Snowboarding should be avoided during pregnancy as it increases the chances of a harsh fall.
Scuba diving is an absolute no during pregnancy, even in the initial stages because when you come out of the water, air bubbles enter your bloodstream. This is not good for the foetus developing inside your body.

Apart from these exercises that you should avoid during pregnancy, also avoid heavy physical activity after long durations of no activity. Remember to stay well hydrated and contact your gynaecologist/obstetrician before starting any exercise routine. Remember that although fitness during pregnancy is a good thing, it cannot come at the cost of risking the health of either you or your unborn child.
Read more articles on Exercises during Pregnancy