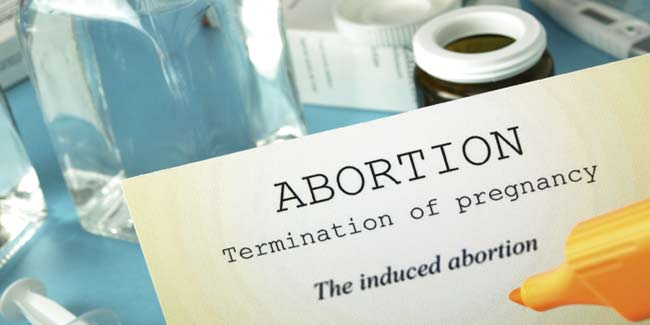 The term abortion means terminating the pregnancy before the foetus (unborn child) can survive independently outside the mother's womb. An abortion can be induced or spontaneous. If the abortion occurs spontaneously before 24 weeks of pregnancy, it is known as miscarriage. In abortion, the termination of pregnancy is induced (or "therapeutic") intentionally in order to end the pregnancy.
Abortions can be done in the first or second trimester of pregnancy. The number of weeks of pregnancy is counted from the first day of your last menstrual period. Abortions can be done by medical or surgical procedure. The type of abortion your doctor will recommend will depend on how many weeks the pregnancy has progressed.

Abortions done in the first trimester (before the 12th week of pregnancy) are safer than when done in the second trimester. Hence, abortions are done seldom in the second trimester, which begins with the 13th week of pregnancy. In the second trimester, abortion may be done by a medical practitioner who has experience handling medical complications (such as to preserve the health of the mother or for some congenital defect in the baby). Most doctors or centers do not do "elective" abortions after 23 weeks of pregnancy. In the third-trimester abortions (after 24 weeks) may be done if the fetus is severely deformed or when the mother's life is in danger.

Abortion is extremely personal and painful decision which can have long term effect on you. It may seem right when you are going for it but think carefully and cautiously about it before undergoing the procedure. It is advisable to consult your parents, doctor or another trusted adult before taking the desicion.
Read more articles on Abortion.