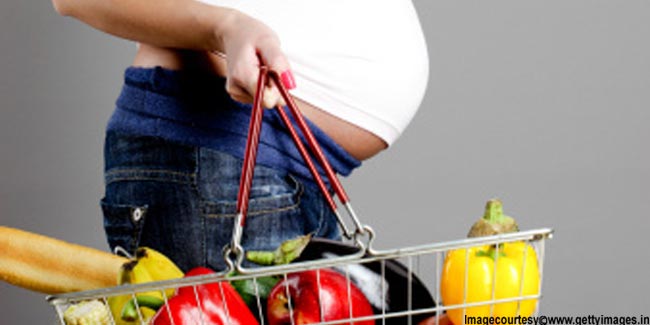 With a weekly diet plan for pregnancy, you can manage to provide the changing requirements of your body better.
It also helps to prevent you from the various pregnancy symptoms you are affected with. In pregnancy, problems of particular concern are healthy weight gain and planning meals which can help you ensure the health of your baby.

Weekly pregnancy diet is given below:
0-8 Weeks
In the first eight weeks of pregnancy, you need to have green leafy vegetables such as spinach (palak), fenugreek (methi), cauliflower, cabbage, capsicum and pulses and lentiles like French beans and peas. Fortified cereals such as whole wheat bread, whole wheat flour and whole wheat pasta are some cereals that must form a part of your diet.
9-12 Weeks
Some important foods that you should include in this week are poha, plain khakara, fresh lemon, coriander or mint for dealing with morning sickness. Magnesium rich foods are also important and can be included in your diet; these include greens in a salad, vegetables such as lauki (bottle gourd), whole grains, pumpkin seeds and nuts.
13-16 Weeks
Some of the healthful sources of nutrition during pregnancy are nuts, green leafy vegetables, fortified wholegrain bread, sesame seeds, almonds, raisins, dates and kidney beans (rajma). Dhokla, rice pancake, porridge made from finger millet (ragi), oats (jai), cracked wheat (dalia), and freshly squeezed pomegranate juice can prove healthful.
17-20 Weeks
During these weeks, it is important that you complement omega 3 fatty acids content of your diet with foods such as leafy green vegetables, akhrot (walnut), tofu, milk and sesame seeds (til). You also need to improve your iodine intake with foods such as cheese, paneer, mushroom, onion and spinach (palak).
21-24 Weeks
You need to have high fibre foods at this time of pregnancy. These include oats, wholegrain bread and rotis, fresh fruits and vegetables, dry fruits and nuts. Increase your water intake too. Increase vitamin A in your diet with foods such as carrots, sweet potatoes (shakarkand), papaya, oranges and green vegetables such as broccoli and spinach. You may also have healthy snacks in the form of fig (anjeer), watermelon and beetroot.
25-28 Weeks
Increase the calcium intake in these weeks as your baby's skeleton would be formed now. You can get your nutrients from dairy products, green veggies such as spinach, sesame (til) seeds and almonds. Some healthy snack options during pregnancy are dates, buttermilk, baked aloo tikki and chivda.
29-32 Weeks
Start having foods that can cool you in these weeks of pregnancy. Cut down on chocolate, coffee, citrus fruits, fatty and spicy foods. Some foods that can help to bring down your body heat include cantaloupe melon, green beans, wholemeal bread, cauliflower and bathua (lamb's quarters). Some healthy snacks for these weeks of pregnancy include apple kheer, cabbage, popcorn, tomato and mint juice and alcohol-free vegetable mocktail.
37-40 Weeks
By the time you reach 40 weeks, it would be time for you to expect delivery any day. You must now start to consider foods that can aid in bringing about labour. Consult your doctor about whether you should wait or have these labour-inducing foods.
Weekly diet plan for pregnancy is important to keep changing the diet according to the changing needs of the pregnant woman as well as her baby.
Read more articles on Pregnancy Diet.